As part of a study on business Internet use by Internet NZ and Google, four case studies will be presented over the next month to highlight the benefits of using the internet better . This is part one.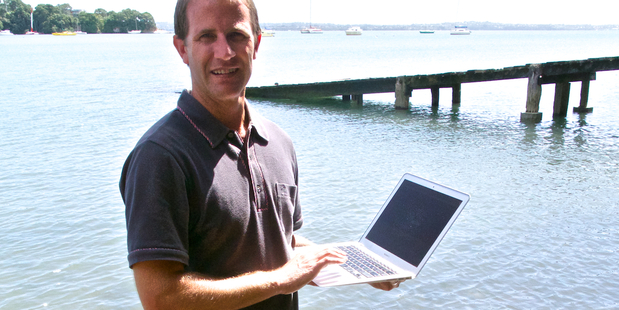 Justin Keen doesn't look much like a traditional accountant. Even though he's dressed for work, he's wearing sneakers, jeans and a T-shirt, and his face looks like he's just spent a week at the beach (which he has).
Cloud Accountants doesn't look too much like a traditional accountancy practice either. It's up a couple of flights of stairs in the shell of an old movie theatre in the Auckland suburb of Ponsonby, and if you missed its small sign you'd end up in the tattoo parlour next door. (Possibly the one place where red ink would be even more painful than on your balance sheet.)
But for a business that does exactly what it says on the tin, none of that really matters. In almost everything it does, Cloud Accountants is a completely online business.
Take meetings, for example. Wherever possible, Justin tries to meet with his clients by Skype, rather than face to face. So, a bit like a TV newsreader, he only needs to look professional from the waist up. "It's all about efficiency," he says.
"Physical meetings mean someone ends up driving across town and back, which is a waste of time. And you tend to spend the first 10 minutes just shooting the breeze anyway."
An added bonus of the virtual meeting approach is that Cloud Accountants has been able to look beyond its neighbourhood for clients. While typically a small to medium accountancy firm would service just a small part of town (or perhaps an industry sector), Cloud Accountants has clients all over New Zealand, and several offshore.
While Cloud Accountants' business is very much built on Xero, that's just part of the way the company makes the most of the Internet. Document management is online too, and the company doesn't own any servers, relying instead on file storage and transfer site Dropbox. That reliance isn't total though, and Justin admits to a belts-and-braces approach. "Every so often I'll back up all our Dropbox files to a physical hard drive, just so we're covered."
For Keen, the main driver behind the cloud approach is efficiency. Where once upon a time accountancy was a specialised, labour-intensive process, automated bank feeds, online tax return filing and accountancy packages can slash the time it takes to manage a small to medium-sized business's tax compliance.
And with that efficiency comes cost savings. Cloud Accountants' website includes the kind of monthly costing menu you'd see on a platform such as (coincidentally) Dropbox, with the annual totals well below what a business would pay a traditional accounting firm - in some cases just half as much.
So with the process side of accounting taking less time and costing the client less money, how can companies like Cloud Accounting make a buck?
"It's all about adding value now," says Justin. "There'll come a time when simple accounting and compliance will become a low value commodity. Platforms like Xero are part of what's driving that, but it looks likely that Government will be making tax compliance for smaller businesses a whole lot simpler too. So we need to spend the time we're not spending on that in a useful way, such as advising our customers on how to grow or develop their businesses."
As business in general becomes more high-tech, Justin sees another role developing too. "Your average business owner doesn't have the time or inclination to keep up with all the new systems for accounting, payroll, point of sale and so on that are out there. So in a way, accountants are becoming tech advisors to businesses."
As well as managing clients via the Internet, Cloud Accountants make the most of cloud-based systems to run the business. Job management is taken care of with Workflow Max, and accountancy-specific backing documentation and reconciliations is handled by Workpapers (both New Zealand-developed platforms).
Communication with clients is also non-traditional. While Justin still does a lot of business via email, he doesn't share his mobile number widely, preferring to communicate via Skype or Twitter. In fact, he advises his clients that a Twitter direct message (a private message not visible to other users) is the most reliable way to get hold of him.
That's especially true when he's away from reliable Internet coverage. If he could, says Justin, he'd run the business from the beach (and most of his team do work remotely). They only barrier to that is the lack of broadband. As an entirely Internet-based business (Cloud Accountants doesn't offer traditional or even non-Xero accountancy), connectivity is as important as electricity. And when that falls over, everything stops.
"The Internet was down here the other day, and I was on the point of sending everyone home," says Justin. "In the end, though, we just tethered everything through my phone."
As a relatively early adopter in the online accountancy space, Justin has no shortage of clients happy to trust their financial records to the Internet. Client businesses range from "one man bands" to businesses with turnovers of around $10 million a year. (Once they get much bigger than that, Justin says, Xero isn't really suitable so that rules them out.)
Looking at the industry as a whole, though, Justin sees sourcing talent as an issue, especially people with experience in working with online accounting systems. A long term challenge will also be educating clients that once the accounting and compliance side becomes a low cost commodity, business advice and mentoring is something worth paying for - which will be a relatively new concept for many smaller New Zealand businesses.
The shift online is transforming accountancy in almost every way. And while more traditional practices are wondering how to meet the challenge, early movers like Cloud Accountants are flat out making the most of the opportunity - when they're not at the beach.
Read the full report on the value of internet services to New Zealand businesses here.