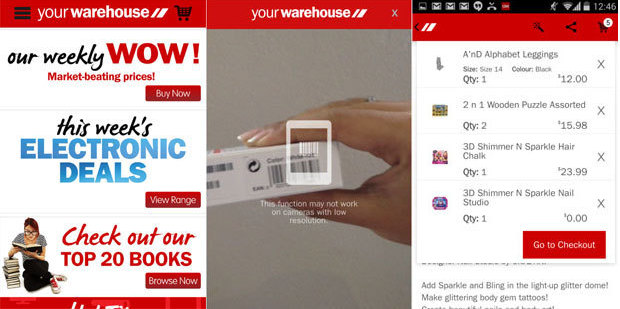 The country's biggest listed retailer The Warehouse has launched a free app designed to make online shopping even easier.
The 'Your Warehouse' app includes the first nation-wide barcode scanner, that will allow shoppers at competing retailers to spot check the price of identical products with the Warehouse price, so consumers can get the best deal.
The Warehouse chief executive Mark Powell says becoming a leading 'multichannel' retailer and challenging traditional shopping is a key strategy.
"With over 50,000 products online, the new app means users will have New Zealand's largest catalogue of products at their fingertips," Powell said.
The 'Your Warehouse' app was developed by New Zealand mobile solutions provider Sush Mobile
"Deployment on this scale, with such a large existing infrastructure makes 'Your Warehouse' a breakthrough technology and the first of its kind in New Zealand," said Sush Mobile managing director Sheenu Chawla.
The app is now available for download on Android and iOS.
Last year The Warehouse announced it had paid $33 million for a 51 per cent stake in Hamilton-based online retailer Torpedo7, in a push to increase its online presence.
Two weeks ago the company also announced it would set up its own financial services operation, and raised $100 million from institutional investors to help fund the push.
Other functions of 'Your Warehouse' include:
• Ability to view and shop special offers and weekly deals;
• Convenient search and sort by category;
• A wishlist so users can save their favourite products and receive alerts when they go on sale;
• Store locator, opening hours, contact details and driving directions;
• Single login across the app and the desktop site.