Australian ruling for longer timeframe has implications for cases here over bank charges, says Andrew Hooker.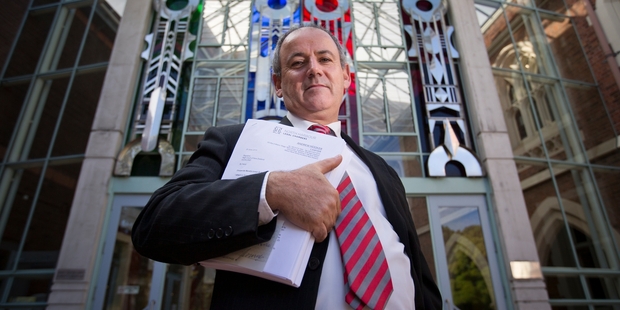 A lawyer taking action against the big banks over penalty fees says he will now try to stretch the claims back decades rather than work with the six-year statutory limit.
Andrew Hooker said a recent ruling in Australia giving bank customers a longer timeframe to make claims had implications for cases here.
"This decision could radically expand many customers' claims. If the fees are found to be unfair ... their claim could now go back several decades."
Last month the Australian Federal Court ruled that ANZ in Australia had been illegally imposing penalties for late payments on credit cards.
But the court found in favour of ANZ on the other fees. The case is widely expected to be appealed from both sides.
Hooker has already filed cases against ANZ in New Zealand and Kiwibank claiming the banks unfairly charged fees for unarranged overdrafts, rejected payments on deposit accounts, exceeding credit limits and late payment fees.
He now wants people who have already signed up to those cases to dig up records from any other banks they may have been with during the last 20 years.
"If you've banked with the same bank for as far back as you can remember, there's nothing they need to do. But if you were banking with a different bank more than six years ago then there is potentially an opportunity to claim back fees from this bank too."
Hooker has also launched action against ASB, Westpac and BNZ but said he would put those cases on hold for now. He was due to file proceedings against the three banks by the end of last month. At the time he said they would be delayed because it was taking longer than expected to get the cases together.
Yesterday Hooker said he would now focus on the first two cases rather than having five cases running at the same time.
"We consider that the best approach is to focus on the initial cases and lodge the papers for the remaining cases at a later stage. If our cases against these banks are successful, it opens the opportunity for customers to lodge larger claims than initially thought."
At least 17,000 people have signed up to take part in the ANZ case while Kiwibank customers have been given until the end of the month to register their claim.
Around 7000 Kiwibank customers had signed up before the court documents were filed last month.
Hooker said if the statute of limitations did not apply there would be no limit on how far it could go back.
"The only difficulty would effectively be practical," he said.
The case against Kiwibank would be limited to how long it has been in operation. The bank was launched in March 2002.
Hooker said going back more than six years had the potential to double the amount of money claimed for some people as before 2009 the banks were charging higher penalty fees. But he said he couldn't guarantee getting the go-ahead to stretch the limitation period.
"This is an Australian case and an Australian piece of law. But the limitation acts are very similar."
However, Hooker said New Zealand courts were not bound by judgments made in Australia. Hooker said he could not add any new claimants to the ANZ case but if enough people came forward who wanted to claim back further he could file a new set of proceedings.
A Kiwibank spokesman said it had no comment to make on the case as it was before the court. An ANZ spokesman said the bank would vigorously fight the case.