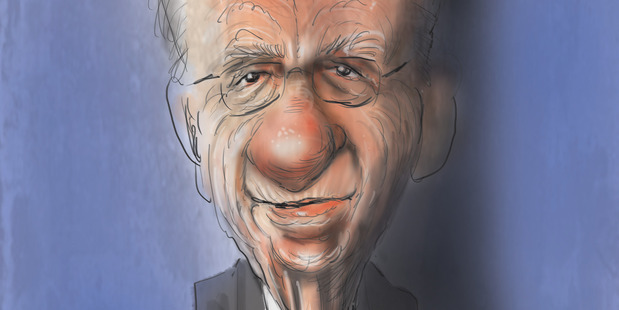 The business and media magnate turns 83 today.
He is worth US$13.5 billion
According to Forbes, Murdoch's fortune swelled by $2 billion in 2013, making him the 78th richest person on the planet.
He had the most expensive divorce ever
For 32 years of marriage to the News Corp CEO, Anna Torv reportedly received $1.7 billion as well as $110 million in cash, making their divorce the most expensive ever.
He has six children to three different women
Murdoch has been married three times. In 1956 he married Australian Patricia Booker and they had a daughter, Prudence, born in 1958. They divorced 11 years later in 1967. In that same year he married Scottish-born Anna Torv who was working at The Daily Telegraph.
Together they had three children: Elisabeth (1968), Lachlan (1971) and James (1972). They divorced in 1999 and 17 days later Murdoch (aged 66) married Chinese-born Wendi Deng (30) and they had two daughters: Grace (2001) and Chloe (2003). Murdoch filed for divorce from Wendi in June last year, reaching a divorce settlement in November.
He launched - and closed - the world's first iPad-only daily newspaper
Launched in February 2011 to much fanfare, Murdoch initially invested $30 million in building The Daily app which people could subscribe to for 99 cents a week. A bold experiment, it was losing money and fired 50 of its 170 employees in mid-2012. In December that year its publisher announced: "unfortunately we have not been able to build a big enough audience fast enough to make our business model work".
His social media intuition isn't so good
He was a confident early adopter of social media, purchasing My Space in 2005 for $580 million when it was at the height of its success. MySpace amped up its video offerings in 2006, and Murdoch claimed that it would be bigger than rival YouTube in within 60 days.
Unfortunately for Murdoch, the site dwindled under as Facebook rose to power and News Corp sold it in 2011 for approximately $35 million - a significantly smaller figure than he purchased it for.
In 2009 he said that he would not be interested in buying Twitter, and warned of investing in it. He also said that "Facebook is like a directory. How they make money is another matter."
He doesn't own any New Zealand media
Murdoch's first foray into New Zealand media was when he bought controlling interest in The Dominion when he was 32.
He held a 43.6 per cent stake in Sky TV but sold this in March last year for $815 million.
He has been publicly pied in the face
While giving testimony before a British parliamentary committee in 2011 regarding the News of the World phone hacking scandal, comedian and activist Jonathan May-Bowles - known as Jonnie Marbles - lunged at Murdoch with a plate full of shaving cream. His then-wife Wendi, sprang from her seat with impressive agility to try and protect her husband.
Marbles tweeted shortly after the attack: "It is far better thing that I do now then I have ever done before #splat" and was later jailed for six weeks.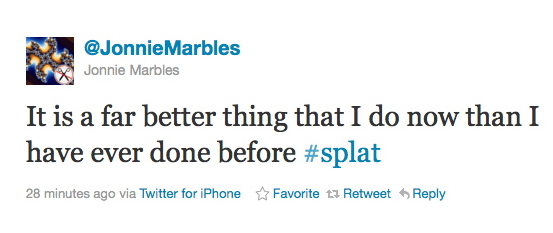 He was once reported dead - by his own newspaper
The day before Murdoch, his son James and former CEO Rebekah Brooks were to give testimony about the phone hacking scandal, digital vigilante groups Anonymous and LulzSec hacked the News Corp-owned The Sun website and posted an article on its home page claiming that Murdoch had died from a drug overdose.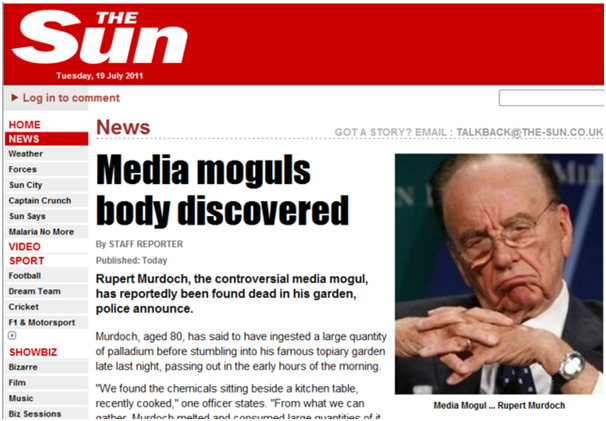 He has twice appeared in The Simpsons as himself
Frequently the butt of many jokes, Murdoch agreed to star on the hit TV series, with producer Matt Groening describing him as 'gracious'.
In the first episode Murdoch's entrance line was: 'I'm Rupert Murdoch, the billionaire tyrant, and this is my skybox'.
He is to be inducted into the TV Hall of Fame
The Television Academy's Hall of Fame Selection Committee announced that Murdoch would be inducted into the 23rd Hall of Fame in December last year. He is being honoured for launching FOX Broadcasting Company and 'revolutionising' the television landscape with ground-breaking shows such as The Simpsons, The X-Files and American Idol among others.