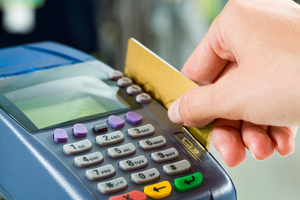 Consumers' plastic cards saw less of the light of day last month, with electronic card transactions in the retail sector falling a seasonally adjusted 0.5 per cent from December.
In the core retail sector, which excludes petrol stations and car yards, electronic card transactions were down 0.8 per cent.
Economists are discounting the softness, however, pointing out it followed a strong end to 2013 and underlying drivers such as consumer confidence, population and employment growth, rising house rices and high commodity prices lifting rural incomes should all be supportive of retail sales.
"We suspect this reflects monthly volatility rather than a slowing trend, though by the same token the very strong growth we saw in spending in the last few months of 2013 may have overstated the underlying trend," Westpac economist Felix Delbruck said. "Compared to a year ago core retail card spending is up 5 per cent, which feels about right. Consumer confidence has continued to rise and as the year goes on we expect bumper returns for primary exporters and the ongoing momentum from the Canterbury rebuild to support solid growth in consumer spending, despite rising mortgage rates and a slowing housing market."
Spending on durable items fell $14 million or 1.3 per cent last month, the third successive monthly decline.
Infometrics economist Matt Nolan said it appeared clear that spending on durable goods had moderated since the introduction of loan-to-value restrictions on new mortgages last October.
"These restrictions have held back house sales, and also limited the ability of new homeowners to outfit their house with new durable products," he said.
Apparel sales fell $9 million or 2.8 per cent from December and were up just 1.4 per cent on January last year.
ASB economist Daniel Smith said clothing appeared to be at the forefront of the shift to shopping online, so traditional retailers might continue to struggle.
"In a sign that consumers' appetites for discretionary spending remain strong, hospitality spending grew by 0.7 per cent in January, to be up 10.7 per cent year on year. This has been a particular area of strength over the last year as consumer confidence has increased and tourist numbers have been strong."