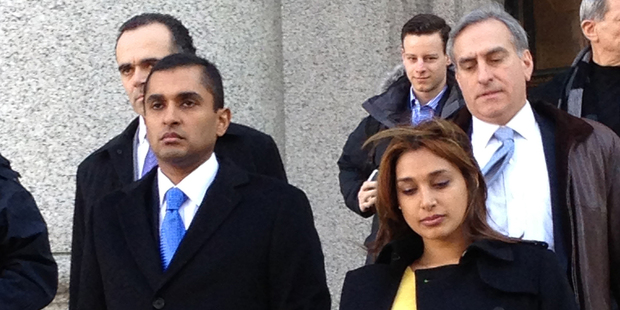 Former SAC Capital Advisors LP fund manager Mathew Martoma, who was found guilty in the most lucrative insider-trading scheme ever, is to be sentenced on June 10 and faces up to 20 years in prison.
Martoma, 39, was convicted on two counts of securities fraud, which carries a maximum 20-year term, and one count of conspiracy, which has a maximum five-year term. US District Judge Paul Gardephe may make each term concurrent and has latitude to impose a significantly shorter sentence.
The longest insider-trading term of 12 years was given to attorney Matthew Kluger in 2012 for a US$37 million ($44.5 million) scheme. The second-longest of 11 years was imposed upon Galleon Group LLC co-founder Raj Rajaratnam for a US$72 million scheme.
Martoma was found guilty of a US$275 million scheme. His was the seventh conviction tied to SAC Capital-related insider trading in the six-year probe of the hedge fund and its billionaire founder, Steven Cohen.
Jurors in Manhattan federal court found Martoma used secret tips on clinical trials of an Alzheimer's disease drug to trade Wyeth and Elan shares. In doing so, he reaped a US$275 million benefit for the fund.
Prosecutors claimed SAC Capital reversed its bullish stance on Wyeth and Elan in July 2008, selling a US$700 million position days after Martoma learned the disappointing trial results for the drug, bapineuzumab, and shared a 20-minute phone call with Cohen. Martoma, who earned a US$9.3 million bonus connected to the trades, chose a trial after rejecting offers of a deal for co-operation.
Gardephe allowed Martoma to remain free on US$5 million bond until sentencing.