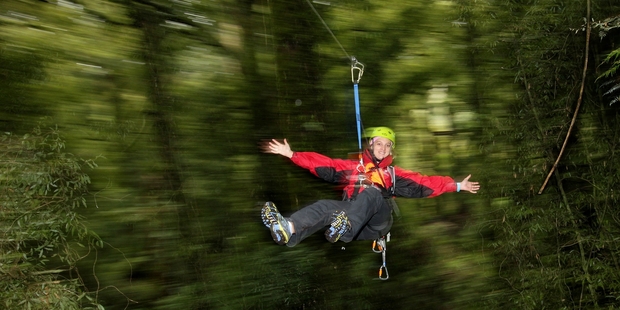 Tourists are arriving in record numbers but the high New Zealand dollar is crimping spending.
Arrivals in December hit a monthly record of 364,200 and passed 2.7 million last year, the highest total ever.
Tourism leaders have welcomed the strong growth, but one industry group warns the high New Zealand dollar is pushing down spending here.
Tourist Industry Association policy and research manager Simon Wallace said that although numbers were strong, spending per visitor was down 3 per cent in 2013 compared with the year before.
Statistics New Zealand figures show the average visitor spent $2,750 and the industry's focus was on increasing spending per person. The high New Zealand dollar made activities more expensive.
"From what we hear in the industry people are still coming but spending a bit less on activities."
While the New Zealand dollar's very strong run against its Australian counterpart was relatively recent and had not appeared to deter visitors from across the Tasman, it could be a problem if the cross rate remained high during the coming year.
Tourism employs about one in 10 of the New Zealand workforce, or about 180,000 people directly and indirectly.
Tourism Holdings chief executive Grant Webster said it was great to see volume returning to the market. His campervan rental business was being affected by the high dollar.
"With the exchange rate where it is, clearly people have got the confidence to travel but they're spending less than they did in the past. For us in particular we see that in the trading down of brands. Our cheaper brands are definitely performing extremely well, the premium brands are performing well but not in line with the others," Webster said.
"The sheer fact that you've got volume back makes such a difference to the industry where you've got fixed cost infrastructure and you just want the numbers coming through.
"There's a very strong sentiment that we're running into another purple patch."
Tourism NZ chief executive Kevin Bowler said that throughout the year traditional long-staying markets, and biggest visitor market Australia, had performed particularly strongly, up 61,000 to 1,357, 408. Arrivals from the United States were up 21.3 per cent to 201,000, andfrom Germany up 9.4 per cent to 69,000.
Total arrivals from China were up 16.2 per cent for the year to 229,000, however December monthly arrivals continued to show the impact of the China Travel Law introduced in October last year, with numbers down 10.6 per cent to 18,500 compared with the same month a year earlier.
"What is becoming clear is how the new China Travel Law is supporting our strategy to accelerate the trend towards higher-quality itineraries with better experiences," Bowler said.
This was "very positive" for the Chinese New Year celebration starting today, historically China's busiest travel period.
A recent survey found that Auckland was one of the most expensive cities in the world for buying a range of items.