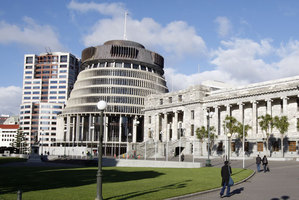 Five months into the Government's financial year the tax take was up 5.9 per cent on the same period a year earlier, while its operating spending was 1.3 per cent higher.
The Crown financial statements for the five months to November recorded an operating deficit of $2.3 billion (excluding accounting gains and losses). That is $700 million smaller than at the same point in 2012 but $400 larger than forecast in December's half-year economic and fiscal update.
The revenue shortfall from last month's forecast largely relates to corporates' provisional tax assessments but it also includes $174 million undershoot in GST revenue.
Compared with the same five months of 2012, however, GST revenue was 5.6 per cent or $300 million higher and PAYE was 7.5 per cent or $700 million higher.
Those two revenue lines explained most of the $1.3 billion or 5.9 per cent increase in the tax take from the previous comparable period.
On the spending side, a 1.9 per cent increase in the biggest line item - social security and welfare - is entirely explained by a $276 million increase in New Zealand Superannuation payments.
Spending on healthcare was running at 1.8 per cent or $100 million ahead of the same period in 2012, while a similar dollar increase in education spending represented a 2 per cent increase.
Overall core Crown expenses were 1.3 per cent higher than at the same point in the last fiscal year.
Labour's finance spokesman David Parker said corporate tax revenue falling below forecast meant companies were not making as much money as expected.
"That means the economy isn't going as well as John Key and Bill English like to trumpet. If the economy truly is a rock star then it's having a Justin Bieber moment," he said.
But Finance Minister Bill English said the Treasury believed most of the revenue difference from its forecast was due to timing issues and would reverse out in coming months.
"We remain on track to surplus in 2014/15 but, as we have said many times before, this remains quite a challenge. In particular, we need to remain focused and disciplined and now is certainly not the time to get loose with spending."