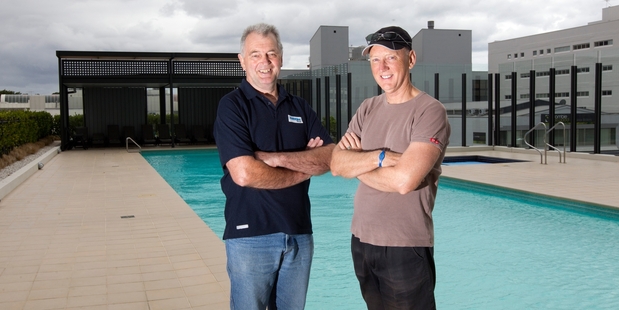 A $470,000 upgrade of the swimming pool, barbecue areas and outdoor entertainment zones of Takapuna apartment high-rise The Sentinel has been finished for summer.
Body corporate committee members Dennis Ansley and Peter Fraher, who own and live in apartments at the Sentinel, said the David Williams' Omega Construction job had significantly transformed level four.
Clear glazed barriers on the edges of the podium were always too low and provided inadequate shelter, they said, so the new glass in vertical metal frames up to 2.6m high will stop the wind around the 25m by 6m swimming pool and spa pool.
The entire outdoor area now has better shelter from the weather on the deck, which has views across Takapuna to the north, Lake Pupuke to the west and the CBD to the south.
The body corporate engaged Kerry Avery of Avery Team Architecture to design the changes.
The biggest new structure is a 9m by 4m pergola on the northeast or Huron St side of the podium.
Residents paid for the work which included taking up the lawn and growing new turf.
"We were levied in stages," Ansley said. "Some people didn't want it. Some people don't want the concierge."
The Sentinel
• 30-level tower at 3-9 Northcroft St, Takapuna
• About 350 people live there.
• Block has 117 apartments.