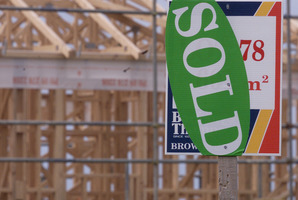 Lending restrictions are starting to ease the pressure on the property market but first-home buyers are still finding it tough as prices and interest rates creep up, mortgage brokers say.
Home loan affordability worsened across most of New Zealand last month, despite the introduction of the Reserve Bank's lending restrictions.
The Roost Home Loan Affordability report said surveys had shown a significant slowing of low-deposit lending and first-home buyer activity since the restrictions began on October 1, but that was yet to flow into a slowdown in house price inflation.
Median house prices rose in 19 of 24 regions and hit record highs in Auckland, Hamilton and Canterbury, the report said.
The Reserve Bank had said the impact of its limit on high loan to value ratio (LVR) mortgages was not expected to be reflected in housing market data for three to six months.
But mortgage broker John Bolton of Squirrel said there were early signs the changes were working.
The auction clearance rate had dropped, meaning more houses were being sold by negotiation, and properties were not selling as quickly.
"Those are all indications of a softening property market, and those are all early indications that the Reserve Bank rules are working and are starting to slow the property market down."
However, it was too early for the impact on home loan affordability to be felt. He said affordability was still getting worse as house prices continued to rise and interest rates crept up.
Bank loans of more than 80 per cent property value were now an impossibility for first-home buyers, and the number of pre-approved mortgages was down by as much as 50 per cent, Mr Bolton said.
"It's pretty tough. The first-home buyers that we are getting through are generally because they've got family support."
Mortgage broker Jeff Royle of iLender said there had been a "massive increase" in non-bank loan applications since the LVR changes were introduced.
Mr Royle said clients could get non-bank mortgages of up to 90 per cent value at close to the rates banks were offering.
"It's been phenomenal, absolutely phenomenal. So if a first-home buyer wants to buy a property and has got a 10 per cent deposit, they can still buy."
Loan Market mortgage broker Bruce Patten said non-bank loan inquiries were not ridiculously buoyant.
"There's just been a lot of first home buyers that have pulled back and thought 'Let's just wait and see and we'll keep saving and we'll see what the new year brings'."
There had been less activity in the property market than six weeks ago, but no reduction in prices, he said.
"But we are certainly seeing a reduction in the fevered activity around auctions. Auction numbers are definitely on the decline."
Mike Pero, of Mike Pero Mortgages and Real Estate, said home loans had slowed by between 10 and 30 per cent in some regions.
Real Estate Institute chief executive Helen O'Sullivan said she expected the initial impact of lending restrictions to be on property sale volumes, rather than prices.
"We'll just have to wait and see how far prices follow," she said.
"The Reserve Bank's focus was on lowering price increases as opposed to bringing prices down, so it's really just holding the situation until the supply response catches up."
***
BY REGION
The Roost report showed affordability for regular home buyers had improved in Manukau, Waitakere, Wanganui, Wellington City, Timaru and Invercargill, but had worsened in central Auckland, North Shore, Whangarei, Tauranga, Christchurch, Nelson and Dunedin.
It was toughest for first home buyers in Auckland. It took 101.7 per cent of a single median after-tax income to afford a first quartile priced house on the North Shore in October.
- APNZ