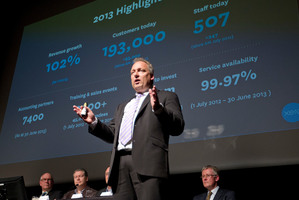 Online accounting software provider Xero has become a $4 billion company.
After opening at $30.13 this morning, shares in the Wellington-based firm rose 4.8 per cent to reach $31.69 just before midday, giving the business a market capitalisation of $4.04 billion.
The company's value now lags only behind Fletcher Building ($6.6 billion), Auckland Airport ($4.6 billion) and Telecom ($4.3 billion).
It's been less than three weeks since Xero's valuation passed through the $3 billion mark.
The company's announcement last month that it had raised $180 million of new capital from high-profile investors including Facebook billionaire Peter Thiel sparked a major rally in the stock.