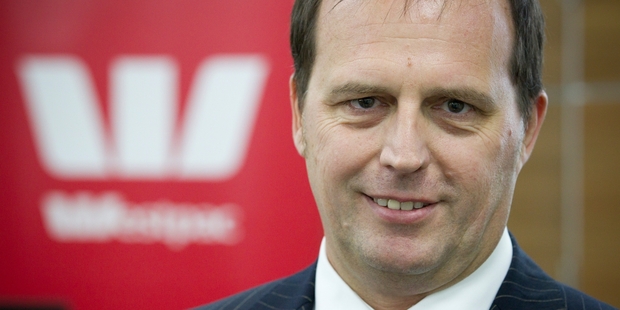 Westpac chief executive Peter Clare says the bank's rivals have been left with a "hangover" after pushing forward with mortgage pre-approvals ahead of last month's crackdown on high-risk lending.
Clare, who yesterday announced a 9 per cent lift in cash earnings to $770 million for the year to September 30, said Westpac began paring back its over 80 per cent loan-to-value lending a year ago after discovering it had the highest rate.
"We actively sought to manage that down," he said.
The change had resulted in lending for high-risk mortgages falling by 1 per cent over the year to June, resulting in a decline to 20.9 per cent of its loan book. In its results presentation the bank states that its peers increased their high-risk lending by between 13 and 33 per cent as of June.
On October 5 the Reserve Bank introduced a new cap on high-risk lending with loan-to-value ratios (LVRs) of more than 80 per cent, limiting it to a maximum of 10 per cent of new lending.
Banks that exceed it face losing their licences.
Clare said it had not been difficult for Westpac to meet the new regulations although last month it confirmed it had withdrawn some pre-approvals.
"Anyone who comes in off the street we are talking to them about their options and are lending to a good portion of them."
But other banks were facing a "bit of a hangover", Clare said.
Last week BNZ chief executive Andrew Thorburn said that bank was doing hardly any new lending over 80 per cent because of the number of pre-approvals it had already given.
"If they convert we will use up our capacity," he said. In June the BNZ had the lowest percentage of loans in the high-risk area at 15.4 per cent.
Massey University banking expert David Tripe said it was too soon to measure any financial impact on the banks from the loan-to-value change.
"I would expect the LVR change to have some impact on bank lending but it won't necessarily have much impact on profits."
Tripe said Westpac's core earnings had not grown much in the past year which indicated a competitive market.
Earnings were up 1 per cent to $1.184 billion.
Clare described the bank's result as a "strong all-round performance in what has been a low growth environment".
The bank increased its deposits by 11 per cent to $46.6 billion and its loan book by 4 per cent to $61.6 billion.
Impairment charges for the bank were down 39 per cent to $117 million but its net interest margin was squeezed, falling 10 basis points to 2.38 per cent after more people switched from floating to fixed mortgage rates.
The official cash rate is expected to lift next year, signalling an increase in mortgage rates.
Clare said Westpac had widened its buffer on lending to help its customers cope with interest rate increases but admitted some would find it difficult.
However he played down any concern that rate rises could put pressure on the bank's impairment level.