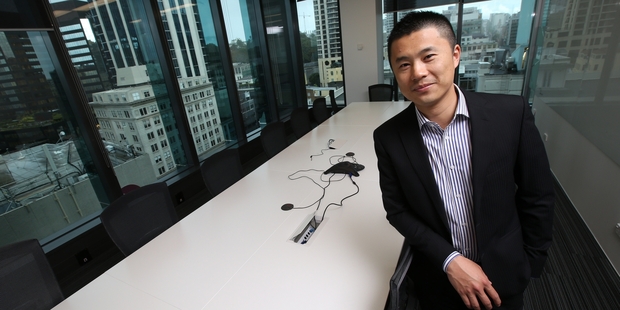 Frank Cui arrived in New Zealand 13 years ago from Northeastern China with big plans but little English.
Within three years he started work at the ANZ Bank and by his account was one of 50 banking staff in Auckland who could speak more than one Asian language.
While he thinks the number of multi-lingual banking staff is these days closer to 600 and his career has excelled as the BNZ's head of migrant banking services - he said others of Asian descent were still battling for success at the top level.
"I have seen many great people categorised as Asian in New Zealand who are smart and intelligent and who have a passion and want to be successful ... but quite often they don't know how," he said. "Quite often they try to work very hard but not have the ultimate outcome that they expected possibly because they haven't aligned to the mainstream."
Mr Cui spoke to the Herald ahead of today's launch of the New Zealand Asian Leaders group which plans to maximise New Zealand's business dealings with Asia by bringing local Asian leaders together and drawing on their experience.
The group, which includes mentors to nurture emerging Asian business talent, was founded by high-profile lawyer Mai Chen, who said a greater Asian presence in New Zealand boardrooms was needed if organisations wanted success in Asia.
"Asian leaders who are passionate New Zealanders and who retain strong cultural and family links with their home country, who speak the native language and who have strong business networks can contribute enormously to Kiwi business success in Asia," she said.
Three of New Zealand's current top six trading partners are in Asia with exports to China worth $7.9 billion alone in the year to August, up from $2.2 billion five years earlier.
China and India are expected to be the world's two biggest economies by 2050.
But Ms Chen said a review by accounting firm Ernest and Young undertaken of the top 100 companies from Management magazine found that only 17 per cent of firms had Asians as directors or senior executives. It also found 13 per cent had Asians executives, and only 5 per cent had Asians on their boards.
"To engage properly with Asian markets and business, New Zealand companies need to up their game by building their networks with Asian business people in New Zealand," said Ms Chen.
Mr Cui said the country was becoming more diverse and New Zealanders needed to embrace change.
"New Zealand has to realise that New Zealand is changing and if we are responsible for our kids we need to get serious about how New Zealand is now and how we can work together to make this nation better off."
Statistics NZ figures show Asians are expected to make up 15.8 per cent of the population by 2026.
More than 250 guests are expected today when Minister Judith Collins and former Governor General Sir Anand Satyanand launch the organisation in Auckland.