Company's ambitious plan to cope with forecast growth includes one terminal, hotels - and rail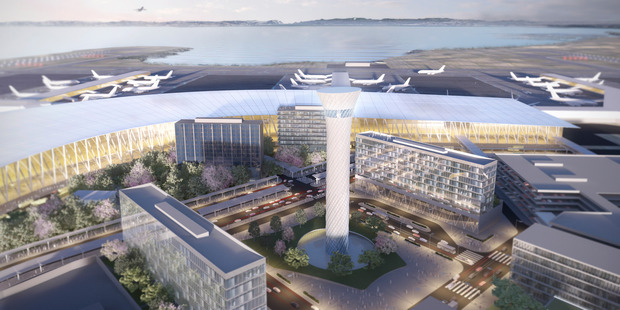 Auckland Airport has unveiled ambitious plans for a $2.4 billion "airport of the future" to cope with forecast rocketing passenger growth.
In the plan, the domestic and international terminal operations would be integrated into one building, a sweeping multi-level structure, with new or extended piers for aircraft with provision for new hotels and commercial space next door.
The airport is also allowing for a train terminal, although it says any rail link would have to be built by central or local government.
At today's prices the new infrastructure would cost $2.4 billion but the company's executives - who presented the plan to investors yesterday - stress the new terminal and associated infrastructure would be built in stages. Work on the domestic area at the southern end of the terminal is expected to start in the next four to five years.
The airport is forecasting the number of passengers will increase from about 14.5 million now to around 40 million by 2044.
About 70 per cent of all international tourists and 90 per cent of all long-haul passengers pass through Auckland.
Chief executive Adrian Littlewood said development of the airport represented an "incredible" opportunity but stressed the plans released yesterday were at the concept stage.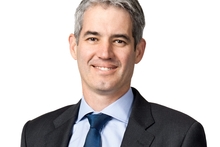 "We don't know what the future holds and how people will travel but there will be change and we've got to allow for that," he said. "We've got to make sure that we've got a fantastic airport that Aucklanders and New Zealanders can be proud of and delivers that critical service for the future."
In its investor presentation the airport said it aimed to be a hub airport for Australasia to and from Asia and the Americas.
Littlewood said passengers would end up paying for the development but "high-level analysis" suggested increase in charges would be in line with rises in the consumer price index and they wouldn't be paying for infrastructure before it was needed.
"Passengers pay ultimately - we're very aware of that - but people accept if they want a great airport faculty there is a cost to that."
He said the existing international terminal was "functional" and the domestic terminal, which started life as a cargo shed 45 years ago, was undergoing the last of many renovations. About $30 million is being spent on the existing domestic terminal to provide service until the new one is built.
And with one terminal, baggage handling could be shared.
"We're getting efficiency in the back engine of the airport which airlines like. They like their staff to be able to move between them."
Littlewood said the company did not expect a second runway to be needed until about 2025. In 2009 the airport put the brakes on second-runway development because of a drop-off in the rate of aircraft movement growth but passenger growth was increasing more quickly, mainly because of bigger planes such as Emirates' Airbus A380s.
'Our planning needed to be flexible enough to respond to that dynamic - while we thought we might need more runway and apron capacity in fact we found that more people were putting pressure on - the terminal has become the pressure point."
Airlines are traditionally wary of major airport capital projects but the Board of Airline Representatives said its members "fully supported" the direction of the plan.
"Our members look forward to the forthcoming more detailed discussions of the plan," said executive director John Beckett.
Littlewood said details would be released next year.
Design work for the airport has been done by international design, planning and engineering firm Arup - which had worked on the Sydney Opera House and the Beijing Olympics - and US-based SOM architects which designed the Sears Tower in Chicago.