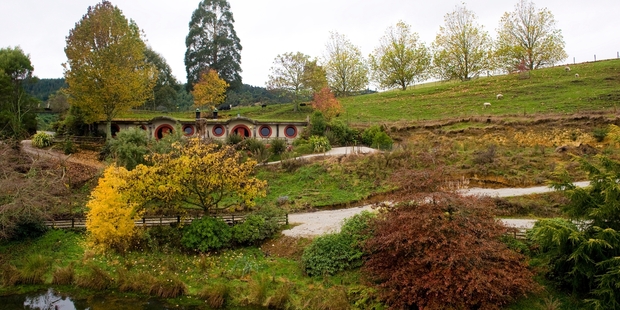 A motel made up of converted planes, trains, and ships and featuring Hobbit holes is on the market.
Woodlyn Park at Waitomo has catered to tens of thousands of tourists over almost two decades through owner Barry Woods' Kiwi culture show, themed restaurant and bar, and unusual motel cabins.
The 3.5ha complex not far from one of the country's most popular attractions, the Waitomo Caves, was judged most innovative hotel concept at the Worldwide Hospitality Awards in Paris last year.
It is home to a 1918 railway carriage which sleeps up to five people and a twin-engined 1950 Bristol Freighter with its cockpit, fuselage, cargo hold and tail converted into two self-contained units.
A World War II anti-submarine patrol boat, built in Auckland in 1942, was moved to the property in 2006 and transformed into five units.
But it's the Hobbit-styled huts built into a hillside, complete with circular windows and doors, that may be the biggest drawcard.
Mr Woods said winning the innovation prize, which he did by the biggest margin in the history of the awards, was the deciding factor in selling the park. The awards are decided by peer vote.
Instead of doubling the 48-bed-capacity motel by adding a space ship, a Russian submarine, an English double-decker bus and a helicopter, Mr Woods wants to promote a new stage show about wool he developed two years ago.
"I've got another dream. I want to take a show into America, and my dream is to get on the [David Letterman] or [Jay] Leno shows."
The show sets out to demonstrate how wool is a superior but underused natural resource that is easier, cheaper and less taxing on the environment to produce than synthetic products.
Under the stage name Billy Black, Mr Woods hypnotises a ewe into falling asleep, sets fire to a woollen jersey and asks a volunteer to set him alight with a blow-torch.
It has sparked interest around the world, with inquiries from a French television crew and filming for a British television station with Irish actor James Nesbitt, who plays Bofur in the Hobbit trilogy.
Mr Woods says his new ambition leaves no room for Woodlyn Park, which he will be sad to see go under the hammer on December 5.
The park has a capital value of $1.1 million but Mr Woods believes it is worth more and thinks a husband-and-wife team would be more than capable of running it.
He's even prepared to train someone to take over the pioneering culture show.
But he said if that didn't interest buyers, they could concentrate on accommodating tourists, conferences and weddings.
The park also features a restored villa, a 250-seat barn and a restaurant kitchen.