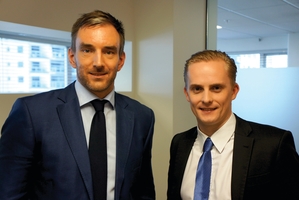 Better interest rates, easier funding for start-up businesses and opportunities for "feel-good" investing may be all just a matter of months away.
New laws to be introduced next April will overhaul financial markets regulations. Peer-to-peer lending, in which money is lent from a "man on the street" investor to a borrower, and crowd-funding that offers investors a return, will become much easier to execute.
The Financial Markets Conduct regulations simplify rules that have made such lending all but impossible - the only crowd-funding that has been allowed so far has been donation-based.
Roger Wallis, of law firm Chapman Tripp, said: "It's quite a different approach. The new law sweeps away a lot of rather strange requirements."
Several attempts had been made to start peer-to-peer lending programmes but they were stopped by regulators because the law required a prospectus for each borrower.
Nexx has reportedly been ready for launch since 2007. Snowball Effect is getting ready to offer "mum and dad" investors the chance to put their money behind Kiwi businesses. Lendit.co.nz is also set to go live and has been running testing.
Lendit founder John Walley said the key to success in the peer-to-peer market was making the most of the difference between what banks pay on deposits, currently about 3.5 per cent, and what they charge for unsecured lending - upwards of 15 per cent. "Between those two numbers is our space to play."
He said good-quality borrowers would be able to approach Lendit.co.nz for a cheaper loan than they would get from the bank, and people with money to deposit would be able to earn more on their cash.
"The person borrowing it wins and the person lending it wins."
He said he would not consider borrowers without a good credit rating - because the loans are unsecured, borrowers had to have some skin in the game, he said. If they already had a bad credit rating, there was nothing for them to lose.
His company is also considering branching into opportunities for funding for fledgling businesses.
"The intention is to find another way of connecting patient savers with impatient spenders. If the benefits are enough to bring people over from other channels, this could be quite significant.
"This will happen in New Zealand. Whether it's us or it's someone else, time will tell."
As long as the Financial Markets Authority is satisfied with the provider of the service and the platform they will be offering, people will be able to lend and borrow from each other up to a cap, probably of $2 million a year.
"If a good system gets a licence it could become quite popular," Wallis said.
He said peer-to-peer lending and crowd-funding was generating interest because technology had progressed to the point where it was much easier to run.
"You're not going to be able to use peer-to-peer funding to buy a mansion in Takapuna but you might to kickstart funding for a small business, which is the lifeblood of our economy."
Massey University banking expert Claire Matthews said peer-to-peer lending was popular overseas. Some lenders could offer better interest rates because the company running the platform did not have banks' big operational costs.