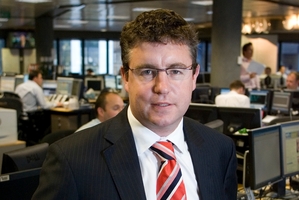 Consumer confidence has lifted in the latest ANZ-Roy Morgan survey to levels the bank says are consistent with a solid appetite to spend.
The index rebounded to 122 points, three points above the long-term average of 118.
Confidence was highest in Wellington and Auckland at four-month and six-month highs respectively, said ANZ chief economist Cameron Bagrie.
The largest lift in confidence was in the 25 to 34-year-old age group, where it hit a three-and-a-half year high, which may reflect a drop in expectations of house price inflation.
"Look no further than high loan-to-value ratio mortgage lending restrictions and rising fixed-term mortgage interest rates as to why," Bagrie said.
A sentiment indicator drawn from this survey and ANZ's monthly business outlook survey points to growth accelerating to 4 per cent by early next year.
"Doubts remain as to whether the supply side of the economy can in fact deliver these rates of growth without blowing a gasket," Bagrie said. "However, anything around or slightly north of 3 per cent would put New Zealand among the strongest performers in the OECD next year."
Meanwhile ANZ's monitoring of job advertisements recorded a 1.1 per cent rise last month to be 4.1 per cent up on a year ago. That includes a 0.5 per cent rise in internet ads.
"In recent years tepid growth in internet job advertising has been matched by an unemployment rate that has stubbornly refused to fall," said ANZ economist Sharon Zollner. "The indicator is finally tentatively turning upward, but it is still a long way from indicating a marked dent in the unemployment rate in prospect any time soon."
The economic expansion had been broadening, Zollner said, but consumer spending was showing signs of running out of puff.
"In that context the evidence [of] an upward trend in job ads - albeit mild - is encouraging as it presages income growth for households."