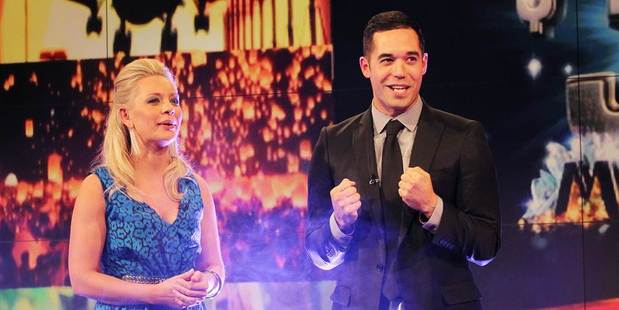 Bad weather, the America's Cup and a Lotto jackpot are the likely causes of a considerable slowdown in Kiwi card spending late last month.
Paymark figures out today show spending through its electronic transactions network was $3.86 billion in September, down from $4.07 billion in August.
The annual growth rate for the month was at 5.3 per cent but this suddenly dipped to 2.9 per cent in the week ending September 27.
Paul Whiston, acting head of Paymark, said that week saw the final few America's Cup races and the $33 million Lotto jackpot.
Both were potential influences on general spending, he said.
"Instead of maybe a cafe lunch, you might spend that $20 on a Lotto ticket. In terms of the America's Cup, people were glued to their TVs from 8am to 10am and that may also have had an effect," Whiston said.
Whiston said the cafe downstairs from his workplace was unusually empty on the morning of the America's Cup races.
But the biggest factor was likely to be bad weather, especially on Tuesday September 24, he said.
"What we have seen in the past is the weather has a dampening or lifting effect on spending.
"Whatever the cause, I can report that spending growth has been a strong 9.1 per cent in the first week of October, suggesting a quick bounce back to the growth momentum that had developed."
Paymark - which processes about 75 per cent of all electronic transactions in the New Zealand retail market - said it had 79.12 million transactions through its network in the month. That compares to 83 million in August and 75.87 million a year ago.
Excluding fuel, which tends to be more volatile, spending was down 1.2 per cent in September compared to August.
The hospitality sector continued its strong recent run, with the accommodation sector up 7 per cent and cafes and restaurants up 7.9 per cent annually.
Housing-related retailers have enjoyed a stellar year but annual growth slowed considerably last month.
"They have had double-digit growth rates this year," Whiston said.
Spending through furniture and floor covering outlets grew by only 3.4 per cent and hardware outlets by 4 per cent. Hardware stores experienced a fall in the volume of transactions for the first time since September 2010.
Kiwi consumers also spent less at clothing and footwear stores last month, down an annual 2.6 per cent and 1.2 per cent respectively.
Of the regions, Palmerston North saw the biggest jump in annual spending growth, up 8.4 per cent. Marlborough retailers enjoyed a lift of 7.9 per cent and South Canterbury spending increased by 7.6 per cent.
Spending again fell on the West Coast (-0.9 per cent) and growth was just below 2 per cent in Wellington, Gisborne and Wanganui.
Over the past 12 months, credit card usage has increased by 10.7 per cent higher and debit cards by 2.5 per cent.
Statistics New Zealand will tomorrow release more comprehensive figures on the number and value of electronic card transactions in the country during September.