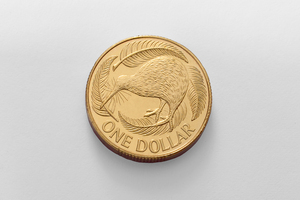 The New Zealand dollar rose after Reserve Bank Governor Graeme Wheeler said he would raise interest rates more aggressively if mortgage lending limits introduced this month don't slow rising house prices.
The kiwi jumped to 83.10 US cents at 8am in Wellington, from 82.66 cents at 7am and 82.21 cents at 5pm yesterday. The trade-weighted index rose to 77.10 at 8am from 76.70 at 7am and 76.44 yesterday.
Wheeler said the central bank has introduced loan-to-value ratio limits on low equity mortgage lending this month to curb rapidly rising house prices in Auckland and Christchurch. The bank expects to increase the 2.5 per cent official cash rate by 2 per cent from 2014 to the beginning of 2016 but would make larger increases should the LVR limits fail to slow house price inflation, Wheeler said today.
"If house prices don't respond to the new LVR limits then the Reserve Bank's OCR forecast will need to rise," said Imre Speizer, markets strategist at Westpac Banking Corp.
"That could push market interest rates higher and in that turn would push the kiwi US exchange rate higher. The higher the yield the more attractive the currency from a carry point of view."
Investors benefit from a carry trade by borrowing in low-interest-rate currencies to buy higher yielding assets.
The Reserve Bank last month said that the LVR limits had the same impact as 30 basis points of interest rate rises, implying interest rates could increase by that amount should LVRs fail to stem house price rises, Westpac's Speizer said.
From October 1, the Reserve Bank has required banks to restrict mortgage lending to borrowers with less than a 20 per cent deposit to no more than 10 per cent of their total lending.
Wheeler today defended the policy in the statement, which was also published in the nation's largest daily newspaper, the New Zealand Herald, following criticism from opposition politicians, banks and builders that it will hurt first home buyers, limit supply of new housing and fail to significantly stem house price rises.
The New Zealand dollar rose to 88.56 Australian cents at 8am in Wellington from 87.70 cents at the 5pm market close yesterday. The kiwi advanced to 80.96 yen from 80.35 yesterday, gained to 61.19 euro cents from 60.80 cents and increased to 51.24 British pence from 50.82 pence.