Excellence, innovation and leading edge technology of America's Cup team a good fit, says airline executive.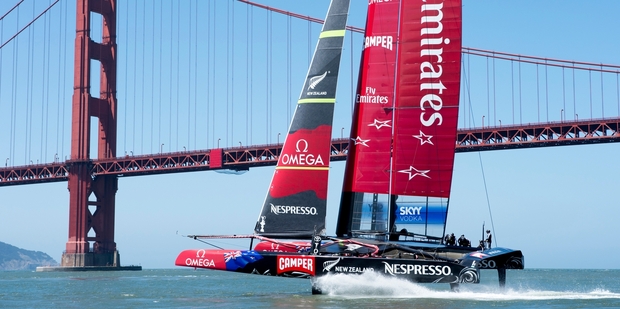 Good timing - and a crucial Kiwi connection - brought Team New Zealand and airline Emirates together.
Syndicate leader Grant Dalton and his team were struggling to pick up the pieces after the disastrous loss to Alinghi in March 2003, and were desperately looking for a big commercial backer.
The airline flew in just months later and was looking to establish its brand and a community presence.
"Emirates started operating into Auckland in August 2003, it was after the debacle of the America's Cup in Auckland and Grant Dalton was looking to resurrect things," said Gary Chapman, one of the airline's top executives - and a Kiwi.
Chapman said he felt first-hand Dalton's legendary powers of persuasion.
"It was probably an all-time low for Team NZ at that stage and it was a case of building the credibility and Grant putting together a persuasive case - he's a very strong character, he knows what he wants, he's very articulate and he's very committed and passionate," he said.
"That's probably what convinced the promotions team at Emirates and I was able to support that given I'm from New Zealand and tried to get across the understanding that this team could go on and win the America's Cup and it was worth supporting."
Speaking from San Francisco - where he's watched most of the Louis Vuitton Cup and all of the main event - Chapman said it has been a privilege to be a part of the Emirates Team New Zealand story, which has had its disappointments.
Emirates signed on as a lead sponsor in mid-2004, and has contributed an estimated tens of millions of dollars.
Chapman would not reveal details of the deal, saying only: "We're obviously comfortable with the amount of money we've put in the property and that's illustrated by being in it for so long."
He said he told Dalton and skipper Dean Barker after the "heartbreak" of the loss to Alinghi in Valencia in 2007 that the team had raised the bar and won widespread support. Emirates recommitted the next year. "Grant has instilled a certain camaraderie, a standard of excellence in the team and those are the things that one wants to be associated with. From our perspective it's very logical - what they stand for in terms of excellence and into the catamarans you can talk about innovation, leading edge technology and that's a good fit for our brand and what we do in the aviation industry," said Chapman, who has been with the airline for more than two decades and is president of group services and dnata, Emirates' giant ground handling, cargo and travel services arm.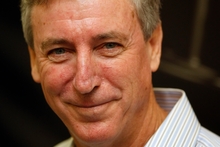 Emirates sponsors the US Tennis Open and branding all over the America's Cup challenger's boat gives Emirates exposure to a high-end market, important for an airline which places a big emphasis on its premium cabins.
"Let's be candid, one of the attractions of remaining in was it [the Cup] was being held in San Francisco. From that point of view it's definitely good for us in the US market - we're a global brand now and anything that gets awareness is a good thing."
Chapman said it was not just about getting branding all over the boat and sailors in the media - which he said had happened more once the Cup proper had started.
The airline was also able to lay on "incredibly exclusive experiences" for premium customers in San Francisco.
"Everyone who's been out on the water, seen that cat being lifted out of the water or seen it sailing past has been blown away."
While the Cup races have delivered on promises made by the holders, the buildup, including the disappointing Louis Vuitton Cup series, had not.
"It's been dogged with issues and problems. When this was put together there were lots of promises made - by the Cup holders' entity about the coverage, the participation, the international TV and there weren't as many regattas as initially indicated," he said.
"That did take the shine off things with the court hearings and all the delays and I guess that points to the strength of the relationship."
Asked whether the sponsorship has been worth it, he said: "Beauty is in the eye of the beholder - I don't think you can put a precise figure on this, to be honest."
However, he said given how "bold and big" the Cup has been, he's satisfied it's been effective.
Brand researcher Mike Lee, a senior marketing lecturer at Auckland University, said whether the airline was getting bang for the buck was an age-old question.
"Obviously they've been one of the most visible sponsors on the boat. Certainly brand awareness would be easy enough to measure but in terms of ... going on to fly with them, it's impossible to tell."
Lee said it would be part of a broader strategy to differentiate themselves from other airlines.
"Sponsorship of this elite brand and other elite brands allows them to position themselves so they are on par or even superior."
Long-term hook-up
August 2003 - Emirates starts flights to NZ.
June 2004 - Emirates signs a lead sponsorship and naming rights agreement with Team NZ.
October 2006 - Emirates Team NZ launched its second 2007 America's Cup race yacht.
July 2007 - Emirates Team NZ loses Cup challenge to Alinghi.
October 2008 - Emirates re-commits to Team NZ.
2009 and 2010 - Emirates Team NZ wins Med Cup series.
March 2011 - Emirates further re-commits to team.
August 2013 - Emirates Team NZ wins Louis Vuitton Cup.