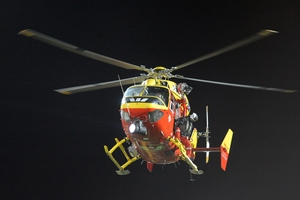 Airwork NZ is expanding into Europe, buying 14 rescue helicopters used by a German motoring organisation.
The Auckland company has done a deal with the General German Automobile Club (ADAC) to buy the BK117 choppers and provide "power by the hour" support for the machines which the club will continue to operate.
BK117 helicopters are operated by the Westpac rescue helicopter service in New Zealand and those operated by the ADAC are known as the "yellow angels". It has 49 emergency rescue and medical helicopters flying from 35 bases.
Privately-owned Airwork, which operates out of Auckland, has not disclosed the value of the deal, but BK117 helicopters sell for up to $10 million.
Based in Munich, ADAC is one of Europe's largest operators of helicopters for emergency air rescue services which are among a range of services provided to its 18 million members throughout Europe.
Airwork is based at Ardmore and the ADAC deal is the first ownership and support contract it has undertaken in Europe, adding to its operations throughout Asia, Africa, New Zealand and Australia.
It will use recently gained European safety certification that designates the firm as an approved organisation for helicopter maintenance, covering inspection, repair and overhaul.
Trade and Enterprise helped Airwork gain the certification.
ADAC has decided to sell the BK117s, opting for the new Eurocopter EC145T2 model.
Airwork chief operating officer Chris Hart said buying the ADAC aircraft and support contract was a milestone for the company.
Many of the engines, dynamic components, avionics equipment and instruments for the ADAC contract will be provided by Airwork from its main helicopter maintenance base at Ardmore.
Across the company, Airwork employs about 400 people.
As well as providing maintenance services for the Eurocopter Squirrel, MD500 and Robinson helicopters, Airwork owns a fleet of 35 helicopters in addition to the 14 bought from ADAC. Helicopter maintenance, leasing and operations makes up about half of Airwork's business.
It also maintains and operates a fleet of 17 fixed-wing aircraft, including nine Boeing 737s, Fairchild Metroliners, Fokker F27-500 and a Piper Chieftain which are primarily used to provide freight capacity for organisations in Australasia, including NZ Post and Toll Holdings as well as charter operations.