Consumption up but litres per passenger drop on switch to more efficient planes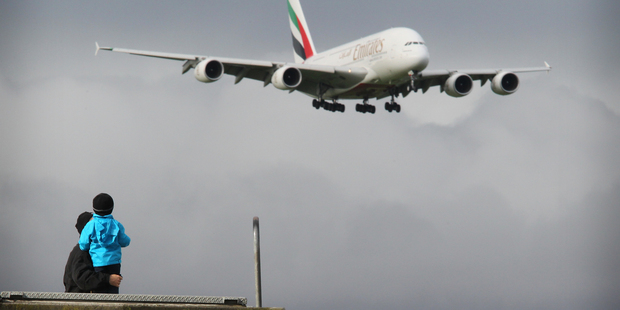 Emirates has increased fuel consumption across its fast-growing fleet by almost 16 per cent over the past year, but says its efficiency per passenger is improving and is now markedly better than the industry average.
The airline says its planes on average used 4.07 litres per group of 100 passengers over 1km in the 2012-13 year, a 1 per cent improvement on 12 months earlier.
"This incremental improvement is attributed to the introduction of new, more efficient aircraft," the Emirates Group's annual environment report says.
Its freighters used 7.6 per cent less fuel per tonne of cargo than they did last year due to the introduction of new fuel-efficient planes and the expiry of wet lease contracts for less fuel-efficient freighters.
Emirates' total fuel efficiency was 15.7 per cent better than the International Air Transport Association's industry average.
Airlines produce an estimated 2 per cent of total global carbon dioxide emissions and are under pressure to cut them, especially from the European Union which wants to impose bigger pollution levies.
According to the Air Transport Action Group, a not-for-profit industry body, about 80 per cent of emissions within the aviation sector come from aircraft flying 1500km or more, for which there is no practical alternative mode of transport.
Last year, planes emitted 689 million tonnes of carbon dioxide and, according to the Emirates environment report, the airline was responsible for about 22.4 million tonnes of those. Total fuel use by Emirates' 197-strong fleet was just over 7.1 million tonnes.
The airline says fuel efficiency is affected by aircraft and engine type, maintenance processes such as engine washing, and operational practices such as how quickly it can get to cruise mode.
Its fleet is on average six years old against the IATA average of 11.7 years. During the reporting period, Emirates retired or cancelled the leases of six aircraft and took delivery of 34 aircraft.
The airline is also flying more efficient routes. After co-ordinating with 34 countries, Emirates flight operations is saving more than 4200 tonnes of fuel and 13,200 tonnes of CO2 emissions per year, thanks to a programme which has opened up 25 new airways structures across the African continent for the airline's South American operations.
In the past financial year, the company posted a US$845 million ($1071 million) net profit, up 34 per cent from the previous year. The group's revenue reached US$21.1 billion, an increase of 17 per cent.
The Emirates figures came as the European Union agreed to limit the scope of its carbon curbs on airlines. The council of the International Civil Aviation Organisation has agreed to have tools in place by 2016, needed to develop a global market-based measure to reduce greenhouse gases.
The outcome is weaker than what was sought by the 28-nation EU, whose move to include international flights in its carbon market as of last year sparked opposition by countries including the United States and Russia.