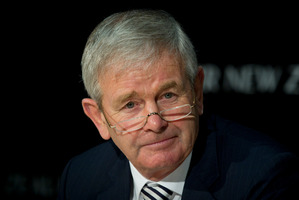 When John Palmer came in as chairman of Air New Zealand in November 2001 he was met by the shattered faces of staff.
The airline had narrowly averted collapse, propped up by an $885 million Government bailout, the biggest corporate bailout at the time.
Its Ansett unit had collapsed in Australia and the industry slumped in the wake of the September 11 attacks.
Palmer and new chief executive Ralph Norris - who was plucked from the board - were left to pick up the pieces.
Hundreds of managers would go in the next year, pay cuts and freezes were imposed and the airline slumped to a $319 million loss in 2002.
But for the next decade the airline defied the industry odds and reported profits. On Thursday Palmer helped front his last result for the airline, a $182 million profit, the best in five years, by far the best in the region and among the best in the world.
He said the mood on Thursday contrasted sharply with that he confronted 12 years ago.
"Compared with the shattered faces I saw when I arrived in 2001, to see how proud those people are today is the biggest reward," he said.
"The issues facing Air New Zealand at the time [included] a balance sheet [that] despite Crown capitalisation was very fragile, an operating environment that was very difficult and I guess a strategy that was built around Ansett that had failed, so it was a question of finding a strategy that made sense."
The airline quickly upgraded technology across the business while fortifying the market it had its best chance of controlling, its home patch.
"Despite the difficulties we were facing - having the best domestic market we could have was fundamentally important," Palmer said.
With competitor Virgin on the horizon, Air New Zealand launched Express Class in 2002 - single-class flights without full meals and drinks but fares well below the average.
"We focused on getting a very strong domestic franchise both in terms of cost and customer focus - that's proved to be the foundation for success," Palmer said.
The airline started accumulating cash to ride out the tough times that marked Palmer's tenure - worldwide health scares, war in Iraq, soaring fuel prices and the global financial crisis.
A strong balance sheet allowed the airline to upgrade its international fleet, but without making something out of the unique personality of staff and the airline it would have been just another carrier.
"We had no competitive advantage globally that we could determine so the only thing we could do was to create a uniquely Kiwi airline that set us apart. The real success of the last decade or so has been the creation of a culture around that," Palmer said.
"It's got us to a stage where New Zealanders feel proud of their national airline, where customers feel good about flying on the airline, where the experience of flying on Air New Zealand is different to flying on other airlines."
New chief executive Christopher Luxon said Palmer's presence was a big reason for his coming home from a key role in Unilever in North America.
"He's lived a life of significance, he's pretty humble, doesn't have an ego but he's very smart and very direct," Luxon said. "He genuinely has been the backbone of this organisation over the last decade and deserves a lot of credit for it."
Former chief executive Rob Fyfe worked with Palmer for 10 years and in Boardroom magazine said Palmer was demanding and challenging "while nurturing an inclusive style that allowed everyone to have a voice".
However, he doesn't come away with the same plaudits for his time at Solid Energy, the state-owned enterprise in another tough industry, which he chaired for six years and left in August last year as the company was spiralling towards near failure to end up at the mercy of bankers.
Palmer admitted to MPs this year Solid Energy had made mistakes over diversifying into alternative fuels and there had been a prolonged difference with the Government on strategy as the world coal price crashed.
The 66-year-old said he would be "slowing down" although he has directorships with AMP and Rabobank and will spend more time in the family horticulture business near Nelson. He will be replaced as Air NZ chairman by former Foodstuffs NZ managing director Tony Carter.