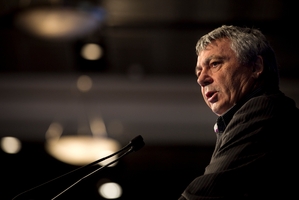 Guinness Peat Group is to cut directors' fees and staff numbers and close offices in Australia and Britain to match its slimmed-down business.
The investment company, which has sold most of its assets in the past year, declared a net profit of $55 million for six months to June 30, a turnaround from the $96 million loss it made in the first half of last year.
It has realised $338 million in the past six months but has had to put a hold on a capital payout to investors amid an investigation by the British pensions regulator over its liabilities to three pension schemes.
The company had hoped to relabel its business under the Coats name to reflect its largest remaining asset - the thread-making Coats business - by the end of this year.
But chairman Rob Campbell said the pension investigation had introduced an "element of uncertainty" into the transition.
Campbell said the board was "conscious of the need to manage costs" during the delay in returning capital to investors while the pension issue was ongoing.
To cut costs the company would reduce board fees from October 1, close its last Australian office by November and its London office at the end of the year.
Staff numbers would be cut to eight by Christmas down from 15 a year earlier.
Board meetings would also be held by conference call to cut travel costs, Campbell said.
Shares in GPG closed steady at 53.5c yesterday.
GPG's only remaining investment aside from Coats is Tower, which returned $119 million to investors in April following the sale of its health insurance and investments businesses.
In August, Tower completed the sale of the bulk of its life insurance business and GPG said the company's board was now considering its capital management strategy and exploring disposal options for the balance of its life business.
GPG said it valued its investment in Tower at $1.95 a share even as Tower's share price fell to $1.72 at August 23.
"GPG considers the ongoing Tower business has an intrinsic value in excess of the current share price," Campbell said.
"GPG's strategic holding in the company will continue to be managed in this context."
Meanwhile, Coats boosted sales 2 per cent to US$840 million ($1 billion) in the six months ended June 30. Sales rose 4 per cent in constant currency terms, as both the industrial and crafts divisions built on an improved performance in the second half of 2012, GPG said.
Operating profit before one-time items rose 12 per cent to US$64 million.
The Coats profit attributable to GPG amounted to US$7 million, compared with a loss of US$126 million in the year earlier period.
- additional reporting: BusinessDesk