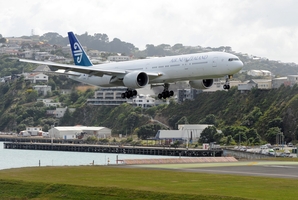 Air New Zealand says it will delay the axing of 180 wide-body maintenance jobs if it can get an industrial agreement with a union covering some of the engineers.
The airline said it will stick to plans to keep its refurbishment of eight Boeing 777-200s in Auckland if the Aviation and Marine Engineers Association ratifies an employment agreement.
Last September it announced the revamp of the planes - including adding more seats and entertainment systems - and said "with pride this work will be undertaken at our Auckland engineering base". But since it has floated a plan to do the work overseas.
Although it will cost $12 million more to do the work here, the airline yesterday said it was prepared to take the financial hit.
The volume of heavy engineering work is dwindling as Air New Zealand and other airlines modernise their fleets and preserving the jobs for another year could just be a stop-gap measure.
"It doesn't get rid of the issue, which is [that] there isn't any work coming in, but it would buy another 12 months," said Air New Zealand's chief operating officer Bruce Parton.
He said if there was an agreement with the association work would continue to July 2015 instead of coming to a halt in May next year.
The association's national secretary Jacqui Roberts said she was hopeful of a resolution but the contract was snagged by legal issues around coverage of her members doing two different engineering jobs.
"We definitely want to protect our members' work. The company is saying they want to have industrial stability - they could just roll over our current agreement," she said.
Both the EPMU and Air New Zealand cite the addition of new aircraft as the main reason for the drop off in heavy maintenance work.
Air New Zealand is phasing out its five 767s and its two 747s and replacing them with new planes, including the Boeing 787 Dreamliner, which requires less routine maintenance and servicing than the older planes.
Parton said: "We all go and buy a brand new car and the mechanic around the corner doesn't get as much work. Everyone in the region is buying brand new cars."
The Engineering, Printing and Manufacturing Union assistant director of organising Strachan Crang said the 777 refurbishment could give workers breathing space.
"We're going to be working hard to retain that 777 work in New Zealand so that gives us time to find alternatives and time for the political parties to get the New Zealand dollar down so we can be competitive on the world stage," he said.
Crang said prospects of finding replacement contracts from airlines still using older planes was being hurt by the high New Zealand dollar.
"There have been productivity gains in double figures over the last three years but they've been eroded."
"This is a highly engaged workforce and we're engaging with the company all the time on this issue. This is a sad, sad day for aircraft engineering."
The airline has shed hundreds of staff over the past 18 months, and 80 jobs at Safe Air, an engineering subsidiary in Blenheim, remain at risk.
On Thursday it is set to announce a $180 million-plus profit for the past financial year.