Company's profit leaps 25 per cent to $177.9m, with international passenger numbers in new financial period 'very strong'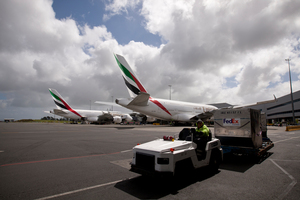 Adrian Littlewood Auckland Airport says it has made a flying start to the new financial year after profit leaped 25 per cent to $177.9 million in the past 12 months.
The company will pay a total dividend of 12c a share for the year to June 30, up 14.3 per cent on the previous year. Its shares closed up 5c at $3.30 last night.
Chief executive Adrian Littlewood said international passenger numbers in the first six weeks of the current financial year had been "very strong" with growth of 8.8 per cent on last year.
He expected 2014 underlying profit after tax (excluding any fair value changes and other one-off items) to be between $160 million and $170 million, 4.5 per cent to 11 per cent up on underlying profit for the year to June 30, 2013, of $153 million. That in turn was an improvement on the previous period of 10.6 per cent.
Littlewood said although it was early, the company had made a fast start to the year. "You get a sense that with activity in the market there's a positive mood underneath it in those growth markets," he said.
International services are the key driver of revenue and Emirates has said it will upgrade to a third A380 in October, and Malaysian Airlines, China Southern, China Airlines, Qantas and Air Tahiti Nui are adding seasonal services over summer.
"Seasonal [services] are always the first sign of confidence. Then what you do is look to make that permanent," Littlewood said.
Air New Zealand is also upgrading its international and domestic fleet.
While Indonesian airline Garuda last year said it would fly to Auckland when its fleet and market conditions allowed, Littlewood said there was no update on when that might start.
"These things have incredibly long lead times. Obviously the best opportunities are to work with existing airlines and that's where we put a lot of focus."
Revenue for the year to June rose 5.1 per cent to $448.458 million. Within that, airfield income rose 5.5 per cent to $81.5 million and property income rose 12.5 per cent to $41 million. He said there were continuing signs of a pickup the property market. Car-park income jumped by 10.2 per cent to $40.3 million by adding parks and increasing yield.
"The price of parking changes all the time, there are times of the day when we have loads of capacity so we price them to fill."
The airport had added 350 car parks in May around the domestic terminal in an area that had been occupied by staff and and this financial year would gradually add new space near the international terminal.
Expenses increased 9.4 per cent to $117.624 million. Key expenses contributing to this higher growth include a 16.4 per cent rise in staff costs to just on $40 million, primarily due to the significant increase in the accrual of long-term incentive provisions and chief executive recruitment.
Littlewood said the incentive payments were linked to the share price movement which, from July 1, 2012, to June 30 this year, rose 21.7 per cent.
New route development and continued marketing initiatives also contributed to 15.8 per cent growth in marketing and promotional expenses to $14.1 million.
International passengers (excluding transits) grew 1.7 per cent to 7.3 million. Growth was also achieved in the domestic market with passenger numbers reaching 6.7 million, a rise of 8.4 per cent, fuelled by more capacity from Air NZ and Jetstar and a range of competitive airfares.
The total share of profit from associates totalled $9.921 million, comprising North Queensland Airports' $6.996 million, Queenstown Airport's $1.319 million and Novotel Hotel's $1.606 million.
Littlewood said the Ibis Budget hotel had a strong year with occupancy up from 60 per cent to 83 per cent and the airport was in the planning stages of increasing the number of rooms from 125 to 198 - an investment of $8 million.
Grant Swanepoel from Craigs Investment Partners said the airport had found a way to grow earnings from a regulated asset.
"They have high expectations of themselves and they keep on delivering on them."