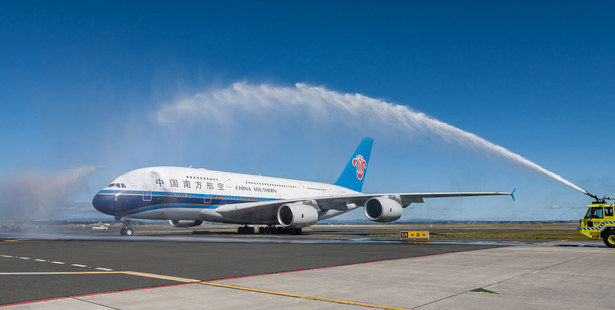 Auckland Airport is forecasting another jump in underlying profit in the current year after its net profit after tax soared 25 per cent to $177.9 million in the past 12 months.
Chief executive Adrian Littlewood said despite challenges in some source markets from slowing growth the company saw the aviation market solidifying recent gains and he was optimistic about the 2014 financial year.
He said he expected 2014 underlying profit after tax (excluding any fair value changes and other one-off items) to be between $160 million and $170 million.
Underlying profit for the year to June 30 2013 was $153 million, an improvement on the previous period of 10.6 per cent.
The board declared a final dividend of 6.25 cents per share taking the annual payment to 12 cents per share.
See the company's latest investor presentation here.
"As always, this guidance is subject to any adverse events, one-off items, non-cash fair value adjustments, deterioration in global market conditions or other unforeseeable circumstances," he said.
Littlewood said recent announcements supported the view that the aviation market is strengthening after the loss of Qantas Auckland-Los Angeles services and Aerolineas Argentinas flying through Auckland to Sydney.
Emirates will upgrade to a third A380 in October, and Malaysian Airlines, China Southern, China Airlines, Qantas and Air Tahiti Nui are all increasing seasonal services over summer.
International passenger numbers in the first six weeks of the current financial year had been "very strong" with growth of close to 9 per cent on last year.
Revenue in the year to June increased 5.1 per cent to $448.458 million. Within that airfield income increased 5.5 per cent to $81.5 million while property income increased 12.5 per cent of $41 million.
Car park income leaped 10.2 per cent to $40.3 million.
Littlewood said this was due to increased passenger numbers and better occupancy levels. The airport had also added 350 car parks in May and during the current financial year would incrementally add new space.
Expenses increased 9.4 per cent to $117.624 million. Key expenses contributing to this higher growth include 16.4 per cent growth in staff costs to just on $40 million, primarily due to the significant increase in the accrual of long-term incentive provisions and chief executive recruitment.
New route development and continued marketing initiatives also contributed to 15.8 per cent growth in marketing and promotional expenses to $14.1 million.
International passengers (excluding transits) grew 1.7 per cent to 7.3 million.
Following growth of 26.5 per cent in the year to just on 200,000, China has now surpassed Britain to be Auckland's second-largest source of international passengers after Australia.
Littlewood said Chinese visitors spent two and half times more than the average passenger at retail outlets at the airport.
Growth was also achieved in the domestic market with passenger numbers reaching 6.7 million, an increase of 8.4 per cent, fuelled by more capacity from Air New Zealand and Jetstar and a range of competitive airfares.
Total share of profit from associates totalled $9.921 million, comprising North Queensland Airports' $6.996 million, Queenstown Airport's $1.319 million and Novotel Hotel's $1.606 million.
Littlewood said the Ibis Budget hotel, which the airport controls, had a strong year with occupancy up from 60 per cent to 83 per cent and the airport was in the planning stages of increasing the number of rooms from 125 to 198, an investment of $8 million.