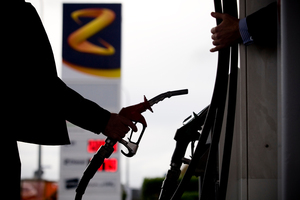 Shares in Z Energy have been priced at $3.50 each - the middle of an indicative range - after a book-building process.
The shares, representing 60 per cent cent of the company, will list on the NZX and ASX on Monday. The offer required heavy scaling during the auction-style book building process. There was no public pool.
The initial public offer (IPO) raised $840 million, or $420 million each, for the co-owners, NZX-listed Infratil and the New Zealand Superannuation Fund, through Aotea Ltd. Infratil's and Aotea's joint ownership of the company will shrink to 40 per cent.
Infratil chief executive Marko Bogoievski said the market's response to the IPO was strong across the board.
"We received a strong response from the retail broker network, with their allocations requiring significant scaling," he said. There was also a strong response from institutions.
NZ Superannuation Fund spokesman Matt Whineray said the fund's remaining 20 per cent holding would still count as one of its biggest investments. He said the fund would reinvest the proceeds in other investment opportunities in New Zealand and overseas.
Z Energy will be New Zealand's first listed transport fuels distribution company and will be among the top 20 New Zealand companies on the NZX.
Infratil and the NZ Superannuation Fund bought the company - which represented Shell's downstream New Zealand assets - in 2010 for $696.5 million.
Salt Funds Management managing director Matt Goodson said it appeared Z Energy had been priced fairly. "Since they bought Shell, petrol margins have improved significantly, even though volumes have gone nowhere," he said.
"If they can get more margin improvement, then it will be worth somewhat more than $3.50," he said. "If margins were to revert to more normal levels, then it would be worth somewhat less."
Z Energy's debut will take place in a generally buoyant market, with the benchmark NZX-50 index gaining about 25 per cent over the last year.
But not all the IPOs have traded strongly. Mighty River Power shares traded yesterday at $2.23, well down from their issue price of $2.50. Moa, the tiny brewing company, traded at 86c, compared with last year's issue price of $1.25.
Dairy sector stocks have fared well. Shares in the Fonterra Shareholders Fund units, which last changed hands at $6.93 each, continue to trade at a big premium to their $5.50 issue price, as does Synlait Milk, which traded yesterday at $2.76 compared with a $2.20 share issue price.
- APNZ