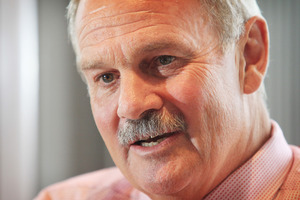 New Zealand's big infrastructure job is being funded by the state - but public-private partnerships (PPPs) have emerged on two big Auckland sites.
Graham Darlow, Fletcher Construction chief executive, cites the $2 billion Waterview Connection as the biggest example of purely state-funded work without any private contribution.
Public funded projects dominate the infrastructure sector right now, but two new Hobsonville schools and a South Auckland men's prison are examples of public-privately funded work.
And the upcoming Transmission Gully job in Wellington has been designed to be a PPP.
"We're part of the consortium which is building the new Wiri Prison and that's privately funded. We started that in September last year and we're ahead on progress. It's due to be completed towards the end of next year around September," Darlow says.
The Wiri Prison is a public-private partnership between the Government and several major companies and it will be run by private operator Serco.
When it opens, about 960 prisoners will live in what Serco has revealed will be an open campus-style facility under its responsible prisoner model.
"Under the design, construct, manage and finance contract, Serco will manage the new 960-place male prison once it becomes operational in 2015. The prison will be built by Serco's construction partner Fletcher Construction with the design drawing on Serco's international experience of operating prisons to ensure the construction will complement the innovative approach to reducing reoffending in a safe and secure environment," Serco said in a statement when it won that job. It plans to give inmates an education and life skills so they can get work once they are released, because many enter prison illiterate and innumerate.
The other big PPP work in New Zealand is by Hawkins at the public and privately funded new schools at Hobsonville Pt. Darlow says these PPP projects could be the shape of things to come. "The models being used for PPP contracts like these seems to be a very good one."
In June, the Government gave the NZ Transport Agency approval to borrow the funds needed to build and operate the Transmission Gully highway using a public-private partnership procurement model. Transmission Gully will link MacKays Crossing in the north with Linden in the south to enable economic growth, improved road safety and reduced traffic congestion. Construction of the road should begin late next year.