Leighton is providing expertise across a broad range of infrastructure projects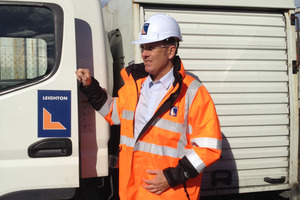 Leighton Contractors has started a three-year, $30 million road maintenance and services contract awarded for Wellington City Council.
The contract, with a two-year extension option, means Leighton is maintaining 247km of roads and 370km of footpaths, in an area which spans from Mt Victoria, around Wellington Airport, through to the Seatoun/Miramar areas, and west across to Happy Valley.
Street litter collection, road corridor vegetation cutting and weed spraying are included the contract.
Andrew Stevens, Leighton Contractors New Zealand general manager, said the work was in a vital part of the capital's road network.
"It's the critical link between Wellington's CBD, the airport and surrounding suburbs," he said.
Leighton has provided similar maintenance services across Auckland's CBD and inner western suburbs as a key member of the Auckland Road Maintenance Alliance.
In Wellington, the company was part of the team responsible for the successful refurbishment of the Mt Victoria and Terrace tunnels and is currently undertaking their maintenance.
Leighton has also been involved in construction of a number of big roads in Auckland, including the Northern Gateway Toll Road, State Highway 20 Manukau Motorway Extension and the Newmarket Viaduct replacement project.
"Our operations in New Zealand have grown steadily over the past 10 years. We now have an on-the-ground workforce of more than 700 people across our infrastructure, mining, services and telecommunication operations," Stevens said.
Leighton is working on ultrafast broadband in Auckland with Chorus, and development, management and operation of the Favona underground gold mine in the Coromandel.
It is also in a consortium shortlisted for the Transmission Gully road project north of Wellington. The project involves financing, designing, building, maintaining and operating the planned link between Linden and MacKays Crossing for up to 25 years.