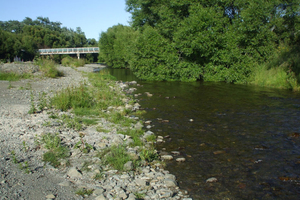 After five years of trying, the Hurunui Water Project has finally received resource consents for its $400m storage and irrigation scheme.
Granted earlier this month the consents are the green light to build four dams on the Waitohi River in North Canterbury.
The scheme will irrigate 60,000ha of farmland but is radically different to earlier proposals.
Those involved damming the southern branch of the Hurunui River and Lake Sumner and were much cheaper.
The project suspended its resource consent applications in 2009 after it attracted more than 1000 submissions which were mostly opposed to the scheme.
The following year the Government blocked all applications to take water from the Hurunui for a period of 15 months after it turned upside down Canterbury's regional governance and sorted out a new freshwater management strategy for the province along the way.
A new resource consent application was lodged late last year after consultation with community groups which settled on the revised scheme on the Waitohi River to the south of the previous scheme.
Project manager Amanda Loeffen is hopeful the scheme can now proceed speedily.
"If you look at the process that we have just gone through we had less than 100 submissions rather than 1000 and most were in support.
"I would be surprised if there was no appeal but the appeal process is unlikely to involve very many people if there is one."
Loeffen says the large size of the scheme means it is likely it will ask for debt or equity or both from the newly formed Crown Irrigation Investments Ltd.
"The whole scheme costs $400m... farmers will not be able to fund it themselves," she says.