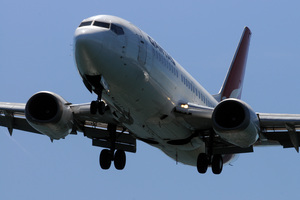 Qantas will start a new Auckland-Perth service this summer with travel agents saying new competition on the route could lead to a drop in fares.
Although the new Perth service will operate only twice weekly and be limited to December and January, it will provide competition to Air New Zealand, which has had direct links between the two cities to itself.
Qantas will use an Airbus A330 between Auckland and Perth from December 6 to February 1 next year, the first time the Australian airline has flown the route directly.
As part of regulatory approval for the Qantas-Emirates deal, the airlines were required to maintain existing capacity across the Tasman.
A Qantas spokeswoman said that with the new Perth service there would be more transtasman seats and its partnership with Emirates had allowed it to change some of its flight times to provide better connections for New Zealand travellers.
Asked whether services could be stepped up, she said, "We regularly review our network and will monitor demand accordingly." Qantas uses narrow-body Boeing 737-800s on other Tasman routes and many of these are being rescheduled to avoid arriving or departing around the same times as Emirates' four widebody services to Auckland and Christchurch.
Qantas chief executive Alan Joyce said the Auckland-Perth service would cater for demand over the busy holiday season and the new schedule offered better flight times and more connections to flights both in Australia and around the world.
The joint Qantas and Emirates network will give New Zealanders access to aligned fares, codeshare services and frequent flyer benefits. Economy passengers will now get a harmonised luggage allowance of 30kg across both airlines.
Western Australia's mineral boom and the number of Kiwis there were a big part of Air New Zealand's decision to increase capacity last year from Auckland and for five months this summer it will operate twice weekly flights from Christchurch.
David Libeau, head of marketing at Stella Travel Services, said the new schedule did improve connections within each country. "It's good for New Zealand travellers and good for competition."
House of Travel retail director Brent Thomas said fares could fall and both direct carriers would benefit from more interest in Perth as a destination.