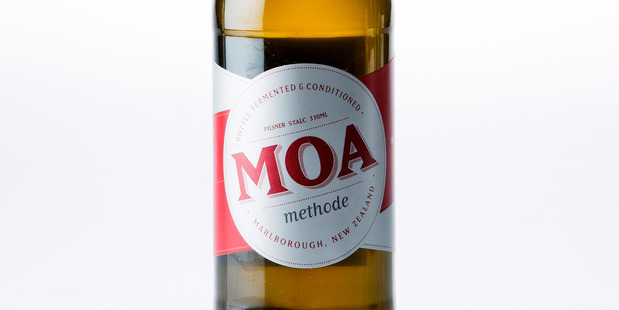 A fund manager has raised concerns over Moa's ability to execute its international growth strategy if the craft beer maker is failing to sustain momentum in its home market.
The company, which listed on the NZX in November, estimates sales volumes for the 12 months to March 31 next year will be 30 per cent lower than the target of 195,000 cases published in its initial public offer prospectus.
Moa said the reduction was largely a result of a sales shortfall in this country, its biggest market by far, accounting for 70 per cent of the brewer's $4.4 million revenue in the 2013 financial year.
The company blames its New Zealand distributor, Treasury Wine Estates.
Shares closed down 26.3 per cent yesterday at 87c, after plunging 32 per cent in early trading.
Salt Funds Management managing director Paul Harrison said it was not a good look for Moa to be struggling in its home market.
"It makes you question how they will be able to achieve something offshore when they're not achieving it here," Harrison said.
"They need to fix this to prove to the market that they are a business that should be listed on the exchange and taking public money."
In its trading update Moa said export markets - including the United States, where the company earned revenue of just over $500,000 in its last financial year - were performing in line with expectations.
Chief executive Geoff Ross told the Business Herald that while the poor trading update was "outrageously disappointing" the company was moving quickly to resolve the problems.
Treasury Wine Estates did not have the skills required to drive Moa's sales in New Zealand, Ross said, adding that the brewer was working towards securing a new distributor and "completely different distribution model" in this country.
"It's a model that we're familiar with from the past and we'll be much closer to the customer ourselves in that model," he said.
Treasury Wine Estates director of corporate affairs Roger Sharp said market research data suggested Moa's sales had doubled in New Zealand since his firm signed a distribution agreement with the beer maker in September last year.
"We think having actually doubled their sales in the New Zealand market - given a fairly competitive landscape - isn't a bad result," Sharp said.
Harrison said a 30 per cent reduction in the sales volumes target was a big shortfall to be blaming on a distributor.
"Operationally they should have been on top of that a lot quicker."
Craigs Investment Partners head of private wealth research Mark Lister said he was not at all surprised by the plunge in Moa's share price after the trading update.
"Remember, this is a small company that's starting out and people are putting faith in future growth," Lister said. "If those future growth expectations take a knock then people are quickly going to become quite concerned."
One craft beer industry source said Moa's prospectus forecasts had been "pretty ambitious".
"Maybe they were just a bit too optimistic about how fast the market was going to grow," the source said. "They talked a big game."
In the IPO prospectus Moa forecast a total revenue of $8.6 million for the 12 months to March 31, 2014, which would be an almost 100 per cent increase on the previous year.