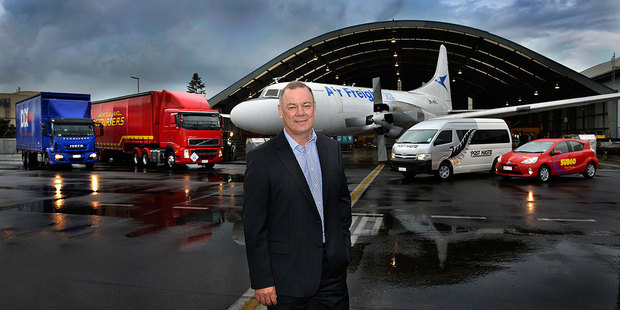 Freightways, New Zealand's largest listed courier and data management company, posted a 6 per cent increase in full-year profit before items, meeting its guidance of last month, and said it expects similar gains in 2014 in "a slow growth environment."
Profit before one-time items was a record $38 million in the year ended June 30, the Auckland-based company said in a statement. Net profit rose 9 per cent to $40.3 million, including $2.1 million in adjustments for earn-outs on acquisitions. Sales rose 6 per cent to $406 million.
Shares of Freightways gained 1 per cent to $4.06 on the NZX and have fallen 5.4 per cent this year. Last month's guidance was weaker than analysts had expected. The company lifted its final dividend to 9.75 cents a share from 9.5 cents, while reducing bank debt and marginally increasing capital expenditure.
Pretax earnings at Freightways' largest business, Express Package and Business Mail, rose 1 per cent to NZ$49 million, lagging behind a 6 per cent increase in sales to $308 million, resulting in a contraction in EBITA margin to 16 per cent from 17 per cent.
The company said "a changing business mix in both our express package and business mail businesses and the cost of related investment to capture new growth has contributed to this outcome."
Business mail operations also reflected the decline in letter volumes through "digital substitution." Freightways said its response has been to boost its network of DX Mail posties to win a larger share of street mail deliveries, and the acquisition of Dataprint which offers both digital and physical delivery to customers. It has also established a business process outsourcing service to "assist in transitioning customers to a digital workflow environment."
Freightways is forecasting "incremental volume growth from our existing customers," it said. "Price increases and efficiencies generated from this anticipated increase in volume are expected to offset cost increases."
Its DX Mail business "will continue to operate in a challenging and overall declining market, yet it is expected to attract increasing customer demand for its street delivery, mailhouse and digital services."
Freightways' information management business lifted operating revenue by 8 per cent to $100 million while pretax earnings excluding one-time items rose 13 per cent to $19 million.
In the year ahead, the company expects the division to record strong volume growth though it expects "slightly lower" revenue from the sale of recycled paper after the closure of a paper mill in Queensland. The loss of two customers from its media storage business would likely be offset by new customers, it said.