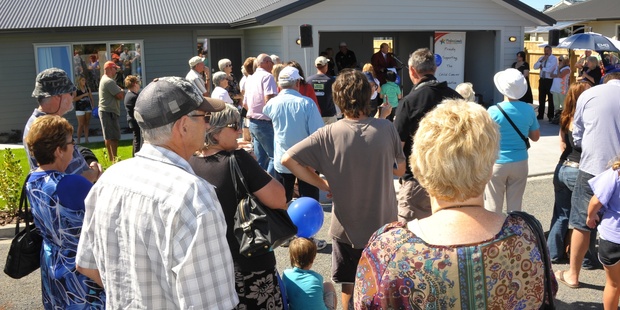 Expectations that house prices will rise remain at very high levels last seen in 2003 at the outset of the mid-2000s boom, according to ASB Bank's quarterly survey of housing market sentiment.
A net 56 per cent of respondents expect house prices to rise as the 62 per cent expecting higher prices dwarfed the 6 per cent expecting a decline.
That is despite an increase in expectations that interest rates will rise, to a net 39 per cent of respondents from a net 30 per cent in the previous survey.
Most market economists expect the Reserve Bank to start raising the official cash rate in the March quarter next year, and financial market pricing implies an OCR three-quarters of a percentage point higher than it is now by this time next year.
ASB chief economist Nick Tuffley said some fixed-term mortgage rates had started to rise to reflect the likelihood of a higher floating rate in the future.
Because most people's expectations of future official cash rate rises were already pretty fully priced into fixed rates, the potential saving from fixing was not dramatic. "You certainly get some pretty cheap certainty from fixing but there's not a gaping financial advantage."
In the latest survey, 21 per cent said it was a good time to buy and 21 per cent a bad time. The net zero reading compares with a net 8 per cent positive in the previous survey.
In Auckland, a net 15 per cent consider it a bad time to buy, up from a net 10 per cent three months ago.
The net balance of respondents seeing it as a good time to buy had fallen sharply over the past three quarters, coinciding with a tightening in the housing market, Tuffley said.
"While demand has increased, new supply has remained at historically low levels."
Construction is picking up but from very low levels. Sales volumes have been flat-lining.
"In seasonally adjusted terms we hit the peak in sales around the start of the year and they have been tracking sideways or slightly down ever since. Meanwhile we have still had a gradual decline in overall listings and a slight reduction in the time it takes to sell as well as price growth picking up," Tuffley said.
"So generally the signal out of all these figures seems to be that, whilst sales turnover may have plateaued, at this stage the key driver would appear to be the number of houses available.
"It would be too early to conclude the market has started to cool off yet."
A separate survey ASB runs had detected some easing in investor confidence in residential property in recent months. "This shift may have been influenced by increased talk of the market being over-valued, suggesting further capital gains may be limited," Tuffley said.
"However, even if investor demand eases, we expect owner-occupier demand to remain firm, particularly given the recent lift in the number of New Zealanders returning from Australia."