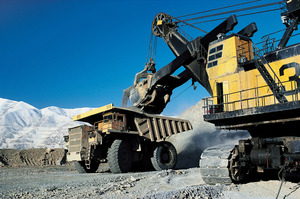 Australia's mining investment boom could fall away faster than anticipated, but there's still uncertainty about how non-mining sectors will rebalance the economy.
In its quarterly statement on monetary policy released yesterday, the Reserve Bank of Australia said its forecast for economic growth was based on the expectation that non-mining sectors would fill the gap left by the decline in mining investment.
But, "the forecast for mining investment remains uncertain, reflecting the timing of investment work on large projects and the possibility of cost overruns", it said.
With few new projects in the pipeline, mining investment could drop off faster than anticipated.
"The forecasts of non-mining business investment have a more muted recovery, at least initially, than in past cyclical up turns."
However, further depreciation of the Australian dollar could see a faster pick-up in non-mining investment.
The RBA said a 10 per cent depreciation of the exchange rate could stimulate growth by half to 1 per cent over two years.
If the transition to non-mining-led growth were to progress less smoothly than anticipated, the labour market could also weaken, leading to lower inflation outcomes, it said.
Recent price and wage data had not suggested a lessening of the scope for further easing to support demand, an assessment that underpinned Tuesday's interest rate cut.
- AAP