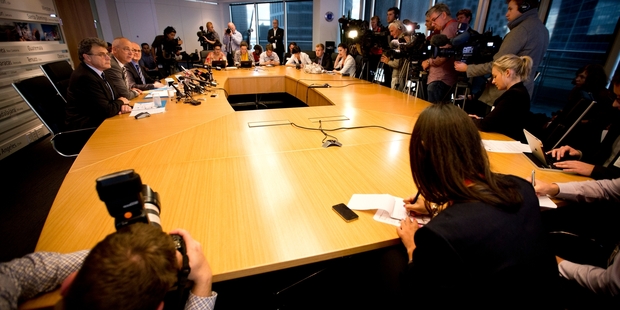 Fonterra chief executive Theo Spierings reckons Fonterra's reputation will be fully restored in the Chinese market, but other Kiwi businesses remain concerned about the toll the dairy giant's botulism crisis may have taken on the New Zealand brand image in the world's second-biggest economy.
Fresh off a plane from China, Spierings yesterday apologised to local companies for any "anxiety and stress" the scandal may have caused.
"Based on investigation and further work with markets we will be on the front foot to restore that reputation," he said.
An editorial by China's state-run Xinhua news agency said New Zealand's 100% Pure tourism campaign had become a "festering sore" and suggested the nation would be abandoned by its major trading partners if "systemic" food safety issues were not fixed.
China is the destination for about $6 billion of New Zealand exports each year, including roughly $3 billion of dairy products.
Spierings said Fonterra's customers in China and the Chinese authorities had appreciated the company's openness and speed in dealing with the crisis, which has been blamed on a dirty pipe at its Hautapu plant in the Waikato that may have contaminated 38 tonnes of whey protein - used by customers to make a range of consumer products, including infant formula - with bacteria that can cause botulism, a potentially fatal illness.
"The reputation will be restored based on the actions we've taken," Spierings said. "Like Chinese people said to me yesterday, human errors happen. But it depends how you address the root causes and do the investigations and correct actions [to ensure] that it does not happen again."
Sean Armstrong, founder of Loaf Handcrafted Breads, said his company was trying to secure distribution agreements in China and the Fonterra debacle meant the firm would have to change its strategy when courting potential customers.
The Ellerslie firm, which employs 50 staff, has tended to highlight New Zealand's "clean and green" image.
"But that image has been slightly tainted," Armstrong said. "I won't be selling that point as heavily as I have in the past."
Eric Barratt, managing director of fishing company Sanford, which relies on China as a major market, said although there had been no direct impact on the firm so far, he was concerned about the "public ridiculing" in the Chinese media of the "Pure New Zealand idea".
The company exports mussels to China under the Pure New Zealand Greenshell Mussel brand, a joint venture between Sanford, Sealord, Kono NZ and Greenshell New Zealand.