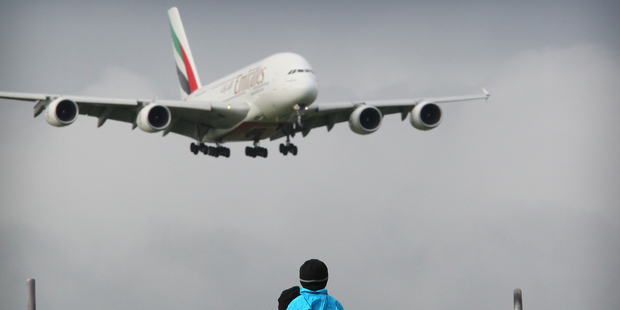 Emirates has reached a decade of services to New Zealand as the airline celebrates five years of flying its superjumbo Airbus A380 around the world.
The airline started services between Auckland and Dubai via Australia on August 2, 2003 with two inaugural flights and has built up to four daily services, three from Auckland and one from Christchurch.
The airline announced 10 per cent discounts to 10 destinations until August 12 to mark the decade here.
"We have had a fantastic decade of growth thanks to the belief of so many New Zealanders in our product and service and we want to acknowledge that support," said Emirates New Zealand regional manager Chris Lethbridge.
From October, when all three Auckland services will be operated by A380s, the airline will provide 1812 seats a day in each direction on New Zealand services.
Since adding the A380 to its global network five years ago, Emirates has carried more than 18 million passengers on the aircraft.
The Emirates fleet is undergoing rolling repairs to fix faults that have led to wing cracks in some A380s operated by 18 airlines around the world.
Emirates is the world's largest operator of the A380 with 35 aircraft and a further 55 on order. More than 7000 cabin crew support the fleet of A380s, along with nearly 670 flight deck crew.
The airline's president, Tim Clark, said the face of air travel had been changed "with this remarkable aircraft".
The A380's longest non-stop route on the Emirates' network is Dubai to New York, covering 11,023km during a flight of 13 hours and 26 minutes.
The shortest A380 route is between Hong Kong and Bangkok - a distance of 1900km, with a flying time of two hours 20 minutes.
See a 'street view-style' tour of an Emirates A380 here.