Tourists to NZ plan to fork out 50pc more per person at $4948, says survey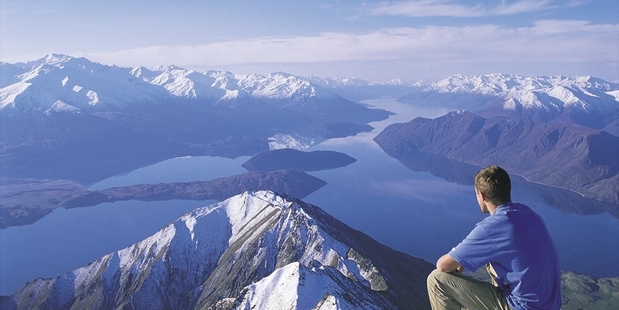 A major global tourism survey shows visitors to New Zealand intend spending 50 per cent more per person, with findings also pointing to arrivals remaining stable.
Visa's latest Global Travel Intentions Study showed visitors to New Zealand now spend an average $3271 on a visit, however this is likely to increase significantly, with potential visitors indicating they plan to spend on average $4948 on their next trip - well above the global average of $3091 per trip.
More than 12,600 travellers aged 18 and above were surveyed, across 25 markets.
Signs spending per visitor is set to increase markedly will be welcomed by the tourism industry which has seen steady growth in arrivals but spending per visitor dropping during the last decade.
Ross Jackson, Visa head of cross-border business for Asia Pacific, Central Europe, Middle East and Africa, cautioned the survey was of intentions rather than actual spending, but reflected plans by those further afield to travel here.
"What's happening to change this is that you're getting greater confidence among the US group - where you've seen a bit of an uptick in numbers - and North Asia comes up in every conversation," he said.
"When people are travelling long haul they're staying longer and that drives the spend up. As you change the mix of incoming tourists, they're really looking at this as a destination holiday."
For the first time since the survey started in 2006, budget did not feature as a constraint on travel.
"People are looking at scenery, weather and people and the experience. That for us was an indicator of travel being re-prioritised," Jackson said.
China was seen as having the greatest potential among source markets.
"Right now the conversation is around China because of the growing appetite to travel and that's great and that's going to continue but I would definitely look at demographics.
There are a lot of other economies in Asia whether they be Indonesia or the Philippines where over a longer period of time [they] are going to create big source markets."
Two per cent of people surveyed in China said they were most likely to travel to New Zealand in the next year, although 11 per cent indicated Australia would be their next holiday destination.
The majority of tourists to New Zealand in 2012 came from Asia Pacific, with Australia making up 56 per cent of inbound visitors.
Caroline Ada, Visa country manager for New Zealand and South Pacific, said while the study indicated that arrivals to New Zealand will be consistent with previous years, there is an opportunity to focus on the bigger spenders, particularly women.
"There's an opportunity for New Zealand to look at how we market the destination to women as more women are travelling to New Zealand than men, plus they stay longer and spend more than men. On average female visitors to New Zealand stay for 16 nights compared with just 10 for males and spend $500 more," Ada said.
The study also found 75 per cent of women liked to use credit, debit or travel cards over cash for security reasons and because it gave them the ability to track expenses.
On the whole, visitors to New Zealand have a high level of card ownership - 83 per cent of tourists have credit cards and 63 per cent have debit cards compared with 73 per cent and 58 per cent for the global average, respectively.
While in New Zealand, respondents in the study said they spent their money shopping, eating and drinking, with 28 per cent of purchases in retail and another 25 per cent spent on food and drink.