Airline body wants change to regulatory regime and says Wellington could raise landing fees after current review.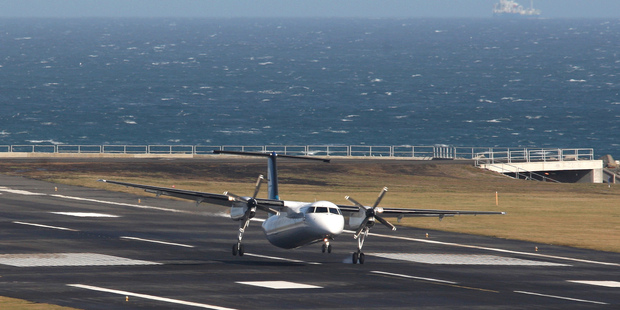 Wellington Airport is going back to the drawing board to set new landing charges but the group representing airlines is worried they will skyrocket after the new round of talks.
The Commerce Commission earlier this year ruled the airport was making excessive profits and the company's chief executive, Steve Sanderson, said it was about to begin another round of consultation with airlines.
"We've decided the best approach is for us to sit down with the airlines and try and re-establish landing charges," he said.
"All things being equal, I would expect our future prices to be lower."
The commission found Wellington Airport was likely to recover between $38 million and $69 million more from consumers between 2012 and 2017 than it needs to make a reasonable return.
It said a reasonable return was 7.1 per cent to 8 per cent, not the expected return of 12.3 per cent to 15.2 per cent.
Sanderson said the airport had a different approach to valuing its land from the commission and airlines.
The airport based its figure on the value of the land's existing use - an airport - which came out at a higher figure rather than alternative uses, which was lower.
Under "light handed" regulation introduced three years ago, airports must consult with airlines and then disclose financial figures every year in addition to non-financial metrics such as service delivery and innovation.
The landing fees are decided on using a "building block" model based on forecast passenger numbers and airport operating costs, Sanderson said.
He said it was hoped to have new fees in place by the middle of next year.
But the body representing airlines, the Board of Airline Representatives (Barnz), wants a change to the regulatory regime and says Wellington could increase its fees substantially after the once-only current review. "Back in 2002, once Wellington Airport was through the commission's earlier review, it increased its prices by a massive 78 per cent. We can only expect similar behaviour following this review," said John Beckett, executive director of Barnz.
Airports need only consult, rather than negotiate with airlines.
"For this reason, airlines still consider that the negotiate/arbitrate regime is needed for New Zealand's main airports to bring them under the same kind of regime that applies in much of the rest of the developed world. Information disclosure is not enough," said Beckett.
Auckland Airport, which has escaped the ire of airlines during a period of relatively low capital spending, backed Wellington's move to recalculate its fees.
Auckland Airport chief executive Adrian Littlewood said it was great to see Wellington Airport had responded to the feedback it received from the commission.
Wellington interests Asian carriers
Wellington Airport says it has "strong interest" from Asian carriers which would fly to the capital if the airport was extended.
Chief executive Steve Sanderson says about 1000 people a day leave Wellington for Auckland or across the Tasman to take long-haul flights.
"Air New Zealand's hub is out of Auckland, so we wouldn't expect them to fly here [but] we've had conversations with Asian carriers, they've shown some strong interest."
Existing airlines are not keen to fund the 300m extension to the 2000m runway and Sanderson said it would have to be funded through a public-private partnership in which councils and Government would provide close to 85 per cent of the estimated $300 million cost of the work and airport co-owner Infratil the remainder.
The proposed extension would push the runway north into Evans Bay and has sparked questions about safety in the densely populated suburb in a city where bad weather makes flying tricky attimes.
Sanderson said the airport would have to meet all Civil Aviation Authority requirements.
Any extension would take up to seven years to complete. The Wellington City Council has contributed $1 million to the resource consent process.