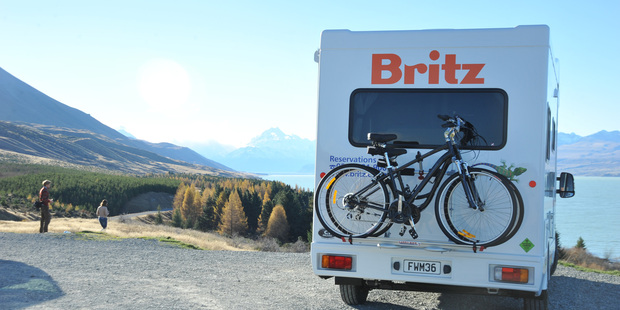 Tourism Holdings' United States operation is about to expand with the launch there of the Britz brand.
The NZX-listed company bought the recreational vehicle (RV) operation Road Bear in the US at the end of 2010 but has not targeted the market for Australasian visitors to the US since then.
It will take bookings on Britz-badged vehicles from tomorrow for travel from November, said THL's chief executive Grant Webster.
"They're similar to US vehicles but are a familiar brand to Australasians. Road Bear doesn't resonate or have a history and from an online perspective it doesn't work here."
Road Bear has a 500-strong fleet of large luxury RVs hired mainly by Europeans.
Webster said rates for hiring a RV in the United States were generally less than peak season charges in New Zealand.
The US business was performing strongly, and he expected that to be bolstered by Australian visitors on their second trip there.
"When the Australian dollar got to parity there were a lot of first-time travellers who went to traditional gateway destinations but are now looking to visit again and that second trip is where they're looking for a road trip."
Tourism Holdings' main business is campervans with the Maui and Britz brands here and expanded last year in a merger with Kea and United. The motorhome sector has struggled with an oversupply of vehicles following the impact of the global financial crisis on traditional European markets.
In February THL announced a $500,000 interim loss and is due to report its full-year result later next month.
At the time of its interim announcement it cut its forecast annual profit, excluding costs from the merger with Kea and United, to between $3 million and $4 million from an expected $6.7 million, and $4.3 million in 2012. Forecast ebit was lowered to a range of $14 million to $16 million from previous guidance of $19.3 million.
The company is in a pre-result blackout period on discussing its financial performance but Webster said there had been no update to the February guidance.
While the US was performing well and there were signs of a pick-up in New Zealand, the Australian market - where the company has a motorhome operation - remained subdued although domestic tourism there was starting to recover as the value of the Australian dollar fell.
A number of competitors, most recently New Zealand campervan company Pacific Horizon, had failed.