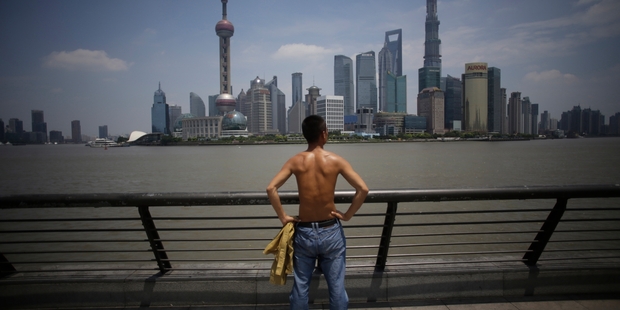 The challenge for New Zealand will be how to manage while the economies of its two biggest trading partners - China and Australia - are slowing during continued strength in the Kiwi dollar, says HSBC economist Fred Neumann.
China would need to stimulate its economy if annual gross domestic product growth declined much further, and Australia would need a few years to recover from the distortions created by the mining boom, he said.
Earlier this month, China said its rate of GDP growth slowed to 7.5 per cent in the second quarter, year-on-year, down from 7.7 per cent in the first quarter and its lowest rate of growth in more than two decades.
"That's getting close to a level where financial risks will grow and the risk of rising unemployment will grow," said Hong Kong-based Neumann, who is HSBC's head of Asian economic research.
"Yes, on the surface everything looks fine and dandy, but if you look more closely you find that certain sectors - steel and cement for example - are not doing well at all."
Neumann said anecdotal evidence suggested the Chinese economy was slowing more sharply than the data would suggest.
That view was backed up by the closely-watched HSBC China Purchasing Manager's Index (PMI), which fell to an 11-month low of 47.7 from 48.2 in June.
He said that unless the Chinese Government adopted stimulus measures, the republic's growth could drop to 7 per cent, or below, over the next several quarters.
"The expectation is that the Chinese Government will announce stimulus in the coming months to make sure that growth stabilises at around 7.5 per cent and that's the most that it could hope for for the time being," he said.
"I think that we have to be a bit cautious about China, because without additional policy support there is nothing that is going to arrest this downside momentum."
If stimulus was not forthcoming, China ran the risk of a "hard landing" for its economy, he said.
China also faced structural issues.
The Chinese system of "hukou" means that people either live in the region of their birth or forgo rights to state healthcare, pensions and education.
HSBC estimates there are around 250 million people in China who have moved out of their home regions.
Neumann said these people probably save more than they should, and by doing so reduce consumption growth in the economy.
He said China's "shadow" banking, or non-bank, sector represented about 45 per cent of outstanding debt and gave cause for concern.
Shadow banks borrow from the interbank market, and when the People's Bank of China withheld liquidity this month it underestimated the "tightness' in the system, which meant interbank rates shot up 25 per cent.
The central bank then had to inject large amounts of liquidity to calm things down.
Without structural reforms China's growth was unlikely to re-accelerate.
"And that means for economies like Australia's, times are more likely to get tougher, rather than easier, in the near future."APNZ
- APNZ