At the foot of One Tree Hill, feelings are running high as leaseholders face huge rent increases. Property editor Anne Gibson pays a visit to Cornwall Park.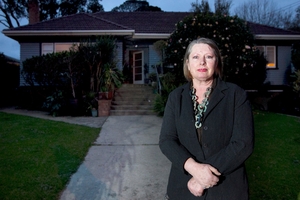 Suzie Trewheela's ground rent shot from $3995 to $29,000 a year under increases to leaseholders' payments for houses in Auckland's Cornwall Park.
"Crippling, absolutely crippling," is how the owner of the Campbell Rd house describes her plight.
The fees became front page news in the Weekend Herald two weeks ago when another disgruntled leaseholder walked away from her $2.1 million home.
Trewheela is struggling to pay but counts herself lucky to have her own business. Long work hours and a boarder paying $150 a week help.
"I have no luxuries. I rarely take holidays. I was aware the leasehold would go up when I bought and the real estate agent said the $333 a month would probably double and I thought I could afford that," said Trewheela, who paid $310,000 for her house in January 2007, only two years out from the 21-year review. "But not this. I tried to negotiate with the board but got nowhere. They won't freehold the property."
The Cornwall Park Trust Board is a registered charity which owns the park, along with 23.4ha of surrounding land gifted to it by Auckland's founding father, Sir John Logan Campbell. The residential land was subdivided from 1910 to 1923 into 110 sections to provide leasehold income to pay for the upkeep of the park.
As the latest round of 21-year leases expire and are reset based on current market values, rentals have gone through the roof and feelings among the lessees are running high. Many of them are ardent dog-walkers who gather to discuss their plight, when their reviews are due, how much they are now paying, what's being asked. Many complain about what they see as the board's unreasonable stance, although the courts have upheld the board's right to the money.
Two years ago, the board emerged the victor from protracted legal proceedings, beating a group of about 70 disgruntled lessees who had trooped from the High Court to the Court of Appeal then the Supreme Court, challenging the way land was valued and seeking a different method.
The board argued successfully that the value of the land should be based on the highest and best use of a property, unconstrained by any development.
Since then disillusioned leaseholders have been voting with their feet. Properties worth at least $6 million are up for sale and at least one has simply walked away.
Earlier this month, the Weekend Herald revealed the Cornwall Park Trust Board's High Court action against Yong Xin Chen over 21 Maungakiekie Ave, a $2.1 million property she forfeited after baulking at annual leasehold fees rocketing from $8300 to $73,7500 a year. The board now wants $348,284 for backdated ground rent, renovations, auctioning and legal fees.
Like many other houses on leasehold land in the area, the board has now been forced to tenant it. An auction in September 2011 failed to draw a single buyer.
Yong's lawyer says she is living elsewhere in Auckland while a date is set for a full hearing. Associate Judge John Faire refused to grant the board's application, saying Yong had a defence, which needed to be heard.
She argued she did not get the 2009 and 2010 letters telling her of the huge ground rent hike and that she would not have stayed there until 2011 for what turned out to be $1400 a week if she'd known when that new rate kicked in.
The judge expressed concern about the board spending $164,404 on the estimated cost of repairs to reinstate and rent the property, which valuers estimated was worth only $375,000. He wondered what state it was in to begin with and if that cost was reasonable.
"For all of these reasons I consider it appropriate that this cause of action proceed to trail and not be the subject of a summary judgment," the judge ruled.
In a written reply to Weekend Herald questions, the board said it charged an annual 5 per cent of the land value of its 110 properties around the park. The land value was set by two independent valuers representing both sides and if they could not agree, an umpire would make a decision.
The board indicated that Ms Yong's $73,750 a year ground rent might not be that unusual.
"Properties which adjoin the park generally have higher land value ... Purchasing a leasehold property of this type can be a way of acquiring a property in a prime real estate area at low cost, compared to the cost of purchasing the freehold in such a property. However, the potential purchasers of leasehold properties need to understand clearly the obligations they are taking on and the economics of the purchase."
The board's park director, Michael Ayrton, says the board has big plans for the area it administers in its century-old legacy. It has hired New York architect Nelson Byrd Woltz to work with environmental consultants Boffa Miskell and lead a 100-year masterplan for improvements.
Few property professionals love leasehold. Christchurch developer Hugh Pavletich says leasehold should be avoided at all costs, particularly for residential property. They can be virtually unsellable in a falling market, he says.
Connal Townsend, Property Council chief executive, has sympathy for the lessees.
"My own parents would snarl at leasehold. This is why we immigrated from the UK. Why would you go back to the feudal system? There's a visceral loathing deeply ingrained in the New Zealand psyche against leasehold," Townsend says.
Don Tilbrook, chairman of the Cornwall Park Leaseholders Association, says negotiations are now at a sensitive point. He is a lessee, too, living in the desirable Maungakiekie Ave, where rent rises on multimillion-dollar properties tend to be highest.
Ms Trewheela gazes at the joggers and walkers on Cornwall Park and just feels resentment. "I think to myself, 'I'm paying for you to be there'," she says, shutting her front door on the chilly winter's night.
Freehold v leasehold
Freehold: Includes the house and the land. Normal practice for home ownership in New Zealand.
Leasehold: Includes the house but not the land, so the house owner pays "ground rent" to the land owner. Less common for residential property but still found in parts of Auckland (see below).
Auckland leasehold land
* 110 residential sections around One Tree Hill/Greenlane: owned by Cornwall Park Trust Board.
* Quay Park, downtown Auckland: 20ha owned by Ngati Whatua o Orakei Trust Board, 15-year rent holiday expired this decade.
* Princes Wharf, waterfront: terminating lease, i.e. not in perpertuity (forever) on apartments, shops and carparks on the wharf.
* Viaduct area, waterfront, many blocks owned by interests associated with businessmen Trevor Farmer and Mark Wyborn.
* Wynyard Quarter, waterfront land run by council-controlled organisation Waterfront Auckland, under development.
* Parts of Albany, converted from freehold to leasehold last decade.
* Beaumont Quarter apartments opposite Victoria Park: once freehold, converted to leasehold, then back to freehold.
* The Melanesian Mission Trust Board and the St John's College Trust Board once owned big CBD and eastern suburbs swathes. They have sold almost all of it over many years, mainly to lessees.