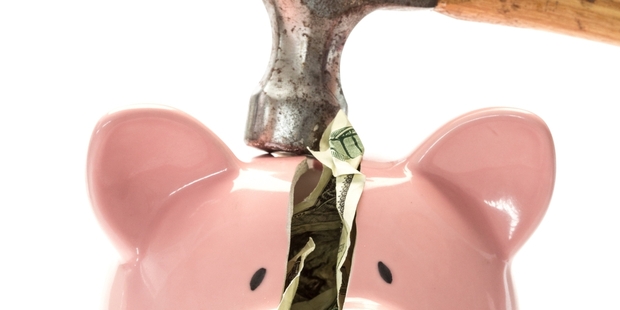 This month's sixth anniversary of KiwiSaver has been celebrated by industry players and financial commentators, and with some justification. Over 2.1 million Kiwis are now enrolled in the scheme, exceeding even the most optimistic of predictions made when KiwiSaver was first introduced. And from this month New Zealanders can transfer their retirement savings locked up in Australia back to their KiwiSaver accounts.
The six-year milestone also provides a timely reason to pause and reflect on what could be improved and thus avoid some of the pitfalls experienced by similar schemes overseas. A key issue that needs more rigorous debate is the form in which KiwiSavers receive their funds when they reach 65 and their savings become available: as a lump sum, or as an annuity, or regular payment. Another recent retirement savings anniversary may help provide some of the answers.
2012 marked the 20th anniversary of Australia's compulsory superannuation scheme, Superannuation Guarantee. Now totalling more than A$1.4 trillion - Superannuation Guarantee has boosted Australia's capital markets and is a major factor behind the country coming through the GFC without entering recession.
Compulsory employee contributions, which originally started at 3 per cent of income, have this month increased from 9 per cent to 12 per cent. When you add in employer contributions and investment gains, it's easy to make the assumption that Australians are heading into retirement with substantial nesteggs with which to enjoy their golden years.
Unfortunately, for many Australians, this is far from the truth. Rising concerns among our members prompted CPA Australia to commission research on Australia's household savings and retirement. The study shows that, after 20 years of compulsory savings, Superannuation Guarantee has failed to deliver one of its key objectives: it has had a minimal impact on Australians' capacity to save for a self-funded retirement, and therefore failed to reduce the growing pressure on the taxpayer to fund the public pension as the population ages.
In what can only be described as alarming, the study shows a tendency by those approaching retirement age - especially over the last decade - to incur greater debt, to spend more, and to view their superannuation lump sum payments as windfalls to be used to extinguish debt or to fund greater consumption.
Compulsory superannuation also appears to have had the effect of reducing other forms of household savings.
Consider these worrying findings:
Between 2002 and 2010 average Australian household superannuation grew by 42 per cent, non-superannuation financial assets grew by 17 per cent and property assets by 60 per cent. But over the same period property debt increased by 94 per cent and other debt by 50 per cent.
Non-retired people aged 50-54 years had a household debt to superannuation ratio of 91 cents to the dollar, and even those close to pension eligibility had a debt to superannuation ratio of 42 cents to the dollar.
For 50-64 year olds, household superannuation grew by 48 per cent, non-superannuation financial assets grew by only 3 per cent, and property assets by 58 per cent. However, property debt increased by 123 per cent and other debt by 43 per cent.
Each dollar contributed to Superannuation Guarantee is offset by a 30 cent reduction in other savings.
Further, the study shows that the Super Guarantee system has not predicted changing work and demographic patterns which have left certain groups, especially those with interrupted work patterns (such as women and casual workers) at a distinct disadvantage.
Effectively, many will have to use their retirement savings to pay off debt - and thus rely on the aged pension in retirement at rates far higher than earlier projections by Australia's Treasury.
The finger of blame can be pointed at a number of factors: poor, and at times politically opportunistic, government policy over the years; and an economic climate (including a real estate boom) which encouraged high-risk and high-debt investment decisions.
It's left Australia with a superannuation system that gives those on lower incomes too little capacity and incentive to save effectively, while encouraging a somewhat cavalier investment and borrowing behaviour from those in higher earnings brackets. A classic lose-lose.
So how can we avoid this happening on this side of the ditch, especially given many Kiwis appear to share our Aussie cousins' penchant for funding their lifestyles on debt?
In our view, making lump sum payments available at retirement is a particular issue. An option worthy of greater investigation is the use of compulsory income streams in retirement to help KiwiSavers move away from the "lump sum as windfall" mentality, which could largely be blamed for Australians' riskier investment and spending behaviour, and willingness to take on debt.
Recent comments from Workplace Savings NZ indicate that, of the more than 21,000 people who became eligible to access their KiwiSaver funds in the past year, most are taking their money as a lump sum, rather than leaving it invested and opting for an annuity, or regular payment. Is this a sign of trouble ahead?
Fortunately, with KiwiSaver only six years young, most account balances are still relatively small when people become eligible to exit, so we have time to debate this important issue. At some point in the future KiwiSaver may become compulsory - and, as part of the ongoing superannuation debate, we should explore whether annuity payments at retirement should be compulsory from that point as well.
David Jenkins is NZ country manager of global accounting body CPA Australia.