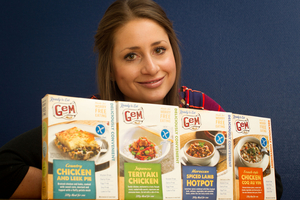 At 23, many Kiwis are still deciding what they want to do with their lives.
Ashleigh Whittaker, on the other hand, is already a company director with a ready-to-eat-meal business.
Gem Escape Meals launched six weeks ago and the brand is already stocked in a number of New World supermarkets and specialty grocery stores around Auckland.
Whittaker established the business after spotting a gap in the market for pre-prepared meals that cater for a range of food allergies, including coeliac disease.
The meals, produced by an Auckland contract manufacturer, are gluten, egg, soy and dairy free.
"I have seen the battle people have trying to find good quality convenience food due to the high risk of cross-contamination in takeaway food," Whittaker said."Where I see the gap in the market is nutritionally balanced food that caters to food allergies."
She said the demand was highlighted when she had a stand at the Gluten Free and Allergy Show and sold almost 750 meals in two days.
The global gluten-free market is projected to experience 10 per cent annual growth over the next few years and reach US$6.2 billion ($7.9 billion) by 2018, according to research firm Markets by Markets.
Gluten - a protein found in grains such as wheat, barely and rye - causes unpleasant symptoms in some people, including vomiting and diarrhoea.
Whittaker said she was working hard to get her products into supermarkets nationwide. The next step would be Australia.
She also works as a graphic designer for local IT giant Datacom and bankrolled the food business from her savings.