FrieslandCampina's Synlait stake powerful message to farmers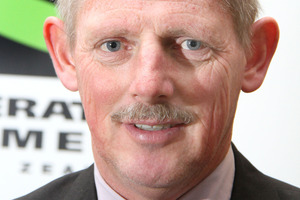 Federated Farmers says news that FrieslandCampina of the Netherlands had taken a 7.5 per cent stake in Canterbury's Synlait Milk could herald a shakeup for the New Zealand dairy industry.
Willy Leferink, Federated Farmers Dairy chairman, said while the monetary value of the stake was modest at around $24.15 million, the investment decision by FrieslandCampina - whose revenues are similar to Fonterra's - sent a powerful message.
"You could describe the investment in Synlait as a 'toe-dipping' exercise but clearly there is an underlying desire to get exposure to New Zealand liquid milk," Leferink said.
"FrieslandCampina easily has the financial means to acquire more of Synlait later if it so chooses," Leferink said.
"Its cornerstone shareholding is to us more like a beachhead," he said.
The surprise arrival of FrieslandCampina - which was once headed up by the present chief executive of Fonterra, Theo Spierings - occurred this week when it acquired its stake during the so called "book building" exercise for Synlait Milk.
China's Bright Dairy will have a 39.1 per cent stake in Synlait Milk and Japan's Mitsui will hold 8.4 per cent.
Leferink said it was significant that FrieslandCampina's holding would sit alongside that of Bright Dairy and Mitsui.
"The prize is clearly Asia," he said,
"While other investors have not meant much to Kiwi dairy farmers, FrieslandCampina most certainly will," he said.
"Having one of Europe's largest co-operatives enter our market, albeit through a commercial shareholding, may just spark a discussion over how the domestic co-operatives will respond; Fonterra especially," he said.
While the focus of the last Dairy Industry Restructuring Act review was on Fonterra's financial redemption risk, Federated Farmers was concerned at the potential for supplier loss.
New entrants to the industry must buy shares for the right to supply Fonterra and must buy additional shares if they want to increase their supply to the co-operative.
"Fonterra's current model is that all suppliers, save for some, either have three seasons to 'share-up' or go on to contract milk," Leferink said.
"Even with contract milk, you have to agree to share-up with Fonterra within six-years."
Sharing-up in Fonterra could only be done at "bank unfriendly" shares.
"To us there has to be a change here."
Shares in Fonterra - which can only be owned by farmers - broadly match that of the Fonterra units which can be owned by the investment public.
The units last traded at $7.36 compared with last year's issue price of $5.50.
Shares in Synlait Milk are expected to list on the NZX on July 23.
Synlait Milk is mostly a milk powder producer but has plans to tap into value-added ingredient products, infant formula and nutritional product markets.
- APNZ