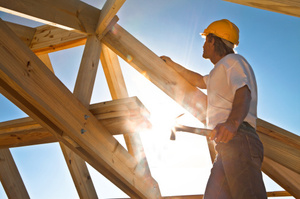 The need for builders and carpenters in Auckland and Christchurch is driving a booming national job market, new figures show.
The number of Trade Me vacancies advertised in the quarter to June are up 11 per cent on the same period last year, according to an analysis of almost 50,000 roles listed on the website.
Trades and services have shown the strongest year-on-year growth for the quarter with advertised roles up 34 per cent.
The number of builders and carpenters' jobs are up a massive 119 per cent on a year ago, and employer demand for these workers is accelerating, according to head of Trade Me Jobs, Ginny Ryder.
"It's definitely a good time to be a worker with these skills, especially in one of the three large metropolitan areas."
The buoyancy has been driven by robust growth in Auckland City and Canterbury, with listings in these areas up 15 per cent and 14 per cent respectively on a year ago.
Auckland's resurgent market was underpinned by strong activity in the construction sector with employers chasing builders and carpenters in particular, with advertised roles up 149 per cent.
"Employment sectors with close ties to the Super City's well-publicised craving for residential property are screaming out for workers, and the construction industry is scrambling to meet the insatiable demand," said Ms Ryder.
The number of roles advertised in the construction and architecture sector had also swelled by 25 per cent, but Ms Ryder said demand in this area was decelerating.
On the flipside, the number of transport and logistics roles was up 30 per cent and still growing.
Hospitality had also grown strongly in the quarter, with advertised roles up 25 per cent on 2012.
IT roles are still the best paid jobs, filling four of the top five highest salaried roles advertised onsite.
Christchurch City, which accounts for the bulk of Canterbury's listing volumes (88 per cent), saw advertised roles grow by 15 per cent year-on-year.
"Activity in the trades and construction sectors of the employment market are providing a large chunk of the growth," Ms Ryder said.
"Advertised vacancies for building and carpentry roles are up 63 per cent on a year ago and this may point to a transition in the rebuild from planning into reality."
Ms Ryder said Wellington also looked to have turned the corner, with trades (+40 per cent), transport (+52 per cent) and banking (+46 per cent) all seeing solid year-on-year increases.
And the buoyant figures mean that while there was no evidence of wage inflation yet, it was on the cards, Ms Ryder said
"The continued rise in NZ employment confidence reported by Westpac McDermott Miller, coupled with the trends around competition for top talent, means wage growth looks likely later in the year."
- APNZ