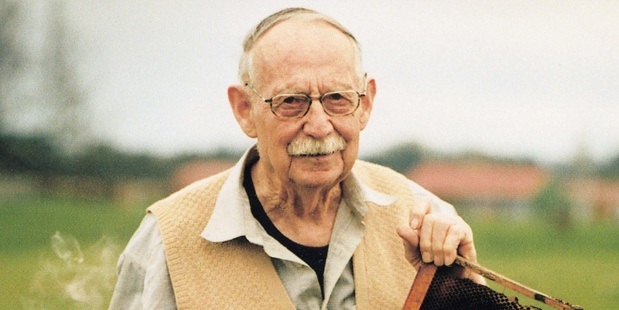 The death of Claude Stratford leaves a "big hole" in Comvita, the natural health products firm he founded almost four decades ago, chief executive Brett Hewlett says.
Stratford died yesterday in Te Puke, aged 102.
He established Comvita in 1974, initially selling a range of bee products out of the basement of his home in Paengaroa, in the Bay of Plenty.
Today, the company - which listed on the NZX in 2003 - earns annual revenue of more than $100 million in 18 markets around the world. Its products include manuka honey lozenges, bee pollen capsules and olive leaf extract.
Hewlett said Stratford, who was just six weeks away from his 103rd birthday, had become increasingly frail in the past three months.
"It's a sad day because he's such a legend," he said. "He has been a very genuine inspiration to everybody in this company and everybody that had an association with it over 38 years."
Stratford got his first beehive in 1921, at the age of 11, which set him up for a life-long association with beekeeping.
He was awarded the Queen's Service Medal in 1999 for services to the community.
In 2005 - at the age of 95 - he was a finalist for the Ernst & Young Entrepreneur of the Year award.
Hewlett said Stratford worked for Comvita up until his early 90s, when he founded another company, Total Value Foods, a health food maker.
Comvita co-founder Alan Bougen said Stratford was a pioneer of New Zealand's health food industry.
"He was a man of indomitable spirit and good humour, who has left a tremendous legacy for the Bay of Plenty and New Zealand," he said.