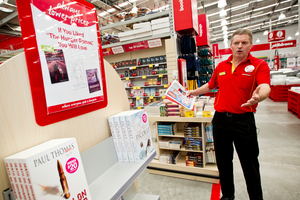 The Warehouse has expanded its online presence through its fifth acquisition in nine months, but the company's boss rejects the suggestion that there's little room for growth remaining in the more traditional segments of the business.
The company confirmed yesterday that it had bought a 50 per cent stake in Auckland-based Shop HQ, a web-based retail start-up operated by Shane Bradley, the founder of daily deal website GrabOne.
Chief executive Mark Powell wouldn't disclose the purchase price, saying it was a "small, strategic acquisition".
In just four months of operation Shop HQ's first business, pet.co.nz - an online pet products store - has built a 15,000-strong customer base in New Zealand and will extend its offering to Australian consumers within the next two months, according to Bradley.
The Shop HQ purchase followed The Warehouse's announcement in March that it would pay up to $33 million for a 51 per cent stake in Hamilton-based online sports gear retailer Torpedo7.
That acquisition followed its $65 million purchase of electronics retailer Noel Leeming and its buyout of supply chain management firm Complete Entertainment Systems in December. And in September the company acquired import business Insight Traders.
The Warehouse is placing much focus on developing its online footprint in a retail market where internet-based sales are increasing rapidly.
Almost 6 per cent of retail sales were made online last year, up from 5.1 per cent in 2011, according to research by PwC and Frost & Sullivan.
But Powell said the Shop HQ purchase was part of a "broader multi-channel approach" and he didn't accept the notion that The Warehouse's network of 92 Red Shed stores, which are undergoing a $130 million revamp, no longer had strong growth prospects.
"Red Sheds is a strong business and it's had nine quarters of same store sales growth - we'll keep pushing for that," he said. "We've become a multi-business group of which the Red Sheds is our core."
In March The Warehouse reported an 18.3 per cent lift in half-year group revenue to $1.1 billion and it has been the sixth best-performing NZX-50 stock - in terms of share price growth - this year, rising about 28 per cent.
Milford Asset Management portfolio manager Mark Warminger said small acquisitions like Shop HQ were low-risk. Shares in The Warehouse closed up 4c at $3.64 last night.