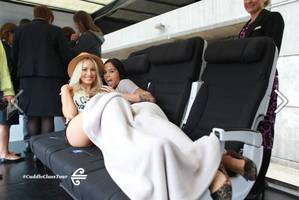 A new airline information system being launched by the International Air Transport Association should result in passengers being given a wider range of choices when they book tickets.
The association hopes to trial the "new distribution capability", or NDC, later this year in places including Australasia, which it says will bring airline systems into the internet age.
Older systems were not flexible enough to take into account the wide range of new airline products, said IATA's director general and chief executive Tony Tyler.
"By bringing modern merchandising capabilities to the selling of airline products, we will enable much richer comparison shopping," he said.
Features could include Wi-Fi availability, duty-free shopping, specialty food and beverage services, anything that adds value to a traveller's experience.
Air New Zealand's "cuddle class" Sky Couch - which it recently showed off in London on the back of a truck - was one product that was difficult to sell through websites or agents who were not familiar with it but the new distribution system would be able to easily promote it.
It was a business to business system that bricks and mortar travel agents and booking sites such as Expedia would use.
The system could include pictures.
"The way you [consumers] shop is not going to change but what they are able to show you will change," Tyler said.
The new system would also bring greater pricing transparency.
"Today, if you go to a travel agent, they can accurately compare base fares. With some effort, they could calculate some ancillary options.
"But pulling together all the information to produce complete offers is nearly impossible - particularly if you add in the perks of loyalty programme status."
He said the system would give travel agents bigger opportunities and they would have much more information on which to base their advice to customers.
IATA would set the standard for information after consulting a broad cross-section of industry players and it was hoped to be introduced widely from 2016.
Tyler said there had been some concern from existing distribution networks, but "introducing internet technology to airline distribution has to happen, it's going to happen".
One agent, Keith Sumner, owner of Gilpin Travel, said his colleagues wanted to ensure they were consulted.
"In the past these things have been foisted on you," Sumner said.
"[What] we want to know is that when the airline is making money we're making money too, in partnership."